CasinoBeats Summit interview with Andrzej Hyla: CBS brings together the crème de la crème of iGaming
In the Press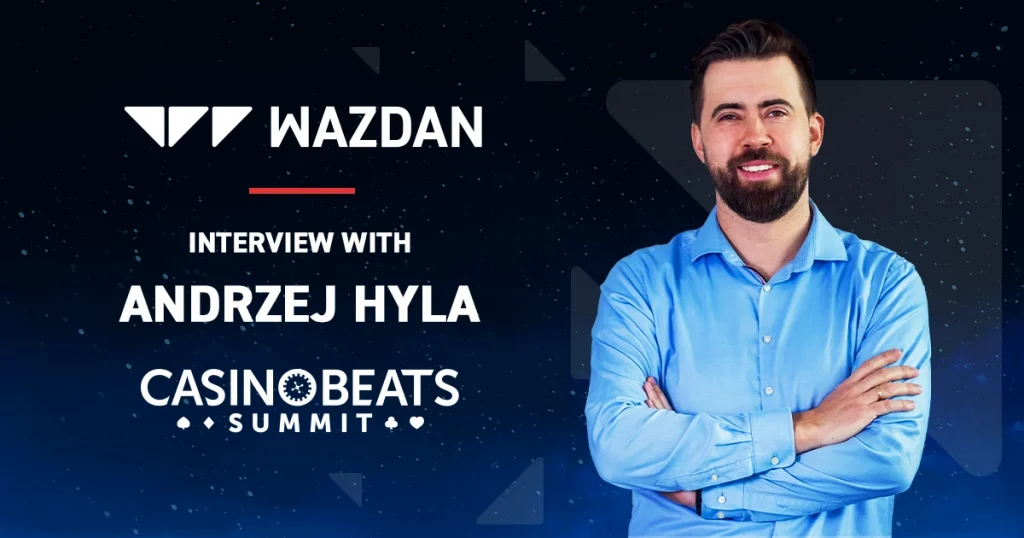 Andrzej Hyla, CCO at Wazdan, has called the firm's attendance at next week's CasinoBeats Summit 2022 a "no-brainer".
Ahead of the event's doors opening today, Hyla stated the summit brings together the "crème de la crème of igaming" and hopes to get an "even better perspective" of the ever-changing regulatory landscape.
What makes CasinoBeats Summit stand out as an event?
CasinoBeats Summit series has established itself as one of the most significant industry events, which brings together the crème de la crème of igaming. It's a no-brainer that you have to show up to be up-to-date with the latest trends and innovations and to catch up with your partners.
Since its launch, the event has been on our radar, and we're looking forward to this year's edition returning in full format. In particular, we are excited about the new roundtable discussions and a chance to contribute to the industry dialogue. The opportunity for some evening networking parties in spectacular venues is a cherry on top.
We are pleased to be sponsoring the awards ceremony and thrilled to have been shortlisted in two categories.
What role does Malta play for your company in the igaming ecosystem?
Malta is one of the most prominent igaming hubs, and its progressive economy and favourable conditions for digital ventures attract many businesses to set up here. Wazdan is based in Malta; we have our offices locally.
The MGA is one of the world's most respected licensing bodies, and its licence was the first one for us to obtain. As it is recognised by other jurisdictions, it paved our way to access other markets.
Each year, we take part in industry events organised in the area and aim to establish strong local bonds.
What industry innovation will capture the most attention in the next 12 months?
We are firm believers in the need for constant innovation and staying ahead of the curve as a supplier. As a game provider, we perceive innovation as responding to players' quickly evolving needs for customisable gaming experiences, new, exciting ways to win, and diversification.
Wazdan has been consistently implementing this approach since its inception, with Freedom of Choice being one of our core values. Customisation tools, such as our trademarked feature, Volatility Levels, facilitate the creation of flexible experiences for players and provide suppliers with an opportunity to differentiate from competitors.
There is a plethora of emerging, cutting-edge technologies on the horizon that promise to take the igaming industry to the next level, such as 5G, VR, or metaverse, to name just a few.
Currently, our focus is on implementing and upgrading technologies available to us that have proven to be most successful with our players and operators.
What core challenges do you help solve for your customers/partners?
Modern igaming demands a constant inflow of fresh ideas and cutting-edge features. At Wazdan, we understand that and go beyond creativity by continuously innovating and enhancing our engagement suite that keeps players immersed, interested, and always coming back for more.
Online casino grids need to stand out from hundreds of other providers, and players constantly seek new ways to engage. That's why we offer added-value promotional tools, such as our flagship Cash Drop, mobile-first experiences, and greater control over gaming experience with our trademarked Volatility Levels.
Wazdan games load fast and run smoothly on mobile and desktop. HTML5 allows us to deliver the newest possible features and performance specs in game design. With an ever-growing list of newly launched titles and features every month, our portfolio helps operators stay fresh and ahead of the tech curve.
Our games have earned the trust of licensed casino authorities and reputable operators across 20 jurisdictions.
Tailoring player experience to individual needs is the start of better conversion rates. Wazdan enables operators to know their players better, define segments, and then deploy engagement tools to generate interest, reduce churn, secure VIP potential, and much more.
Cash Drop, our flagship, intuitive, and configurable promotional tool, boosts player experience and enhances KPIs, allowing operators to customise igaming content that seamlessly flows with promo periods.
Who have you especially enjoyed working with over the past year (partner/client)?
Following our entry into the US market and obtaining the New Jersey licence, we partnered with Rush Street Interactive and never looked back. Our partnership is exciting and promising, and we're hoping together we can bring value by offering our top-performing titles for the enjoyment of local players.
What are you hoping to learn from the conference at CasinoBeats Summit 2022?
Admittedly, this year's agenda abounds with appealing options for valuable industry insights, and the speaker line-up is compelling. Since Wazdan's operations are strongly focused on global expansion, we are always keen to participate in the dialogue and knowledge sharing in the area of new and emerging markets, such as North America and LatAm.
In particular, as we have entered New Jersey, West Virginia, and Michigan, we are enthusiastic about attending the panel dedicated to the US market. Most recently, we have also set foot in Ontario, so we are looking forward to further exploring the potential of this jurisdiction.
The summit is also an excellent occasion for us to get an even better perspective of the ever-changing regulatory landscape, including the countries where we already operate, such as Sweden, Spain, or the UK.
We are equally eager to follow discussions dedicated to all aspects of responsible gaming, as this is something we are strongly committed to. We are also enthusiastic about attending the panels that focus on game development aspects, such as game mechanics and volatility as well slots quality, player engagement, and gamification.
Interview originally published on CasinoBeats.com