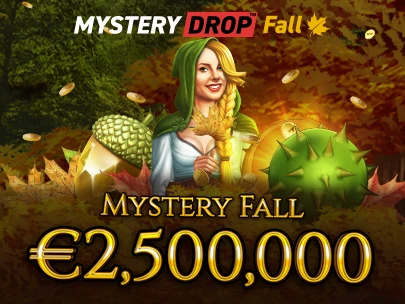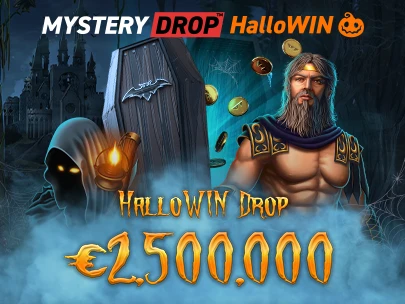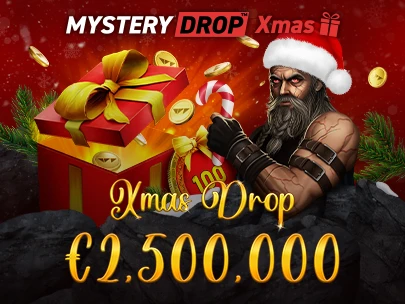 Your Gains with Our Promo Tools
Our suite of highly engaging tools is a proven way for your casino to easily gain a competitive advantage. 
Ready to run your promotion or keen to learn more?
Please share your business contact details below, and we'll get in touch at our earliest.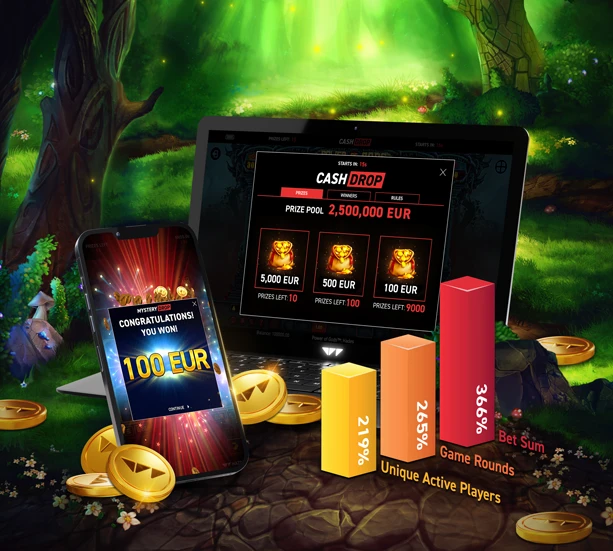 Discover Our Promo Tools
MYSTERY DROP™
Why not offer your players a chance to win 1 of 9 cash prizes? All of the prizes are great, but only the luckiest winners will grab the most generous rewards!
Learn More
PRIZE DROP™
Let your players enjoy an array of attractive physical prizes or free rounds without interrupting their gameplay. A seamless and immersive experience guaranteed!
Learn More
CASH DROP
What's not to love about winning random cash prizes within an active in-game session? Our flagship gamification tool is a crowd-pleaser and a real engagement enhancer.
Learn More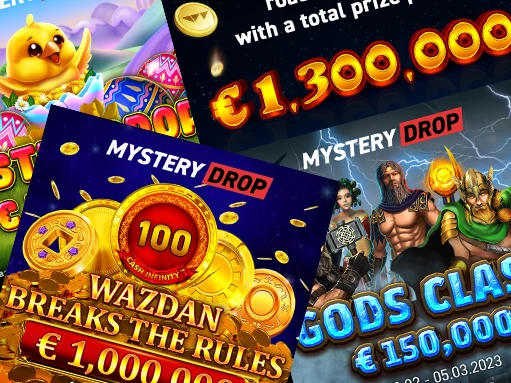 Network Promotions
Don't miss out on a chance to participate in large promo events with shared hefty prize pools. Benefit from a unique opportunity to increase player engagement, your casino's visibility, and revenue without investing a single penny!
Learn More
Questions? Our Team Is Here to Help You!
They will clarify, advise, and guide you through the options and processes. Just let them know.
Request Contact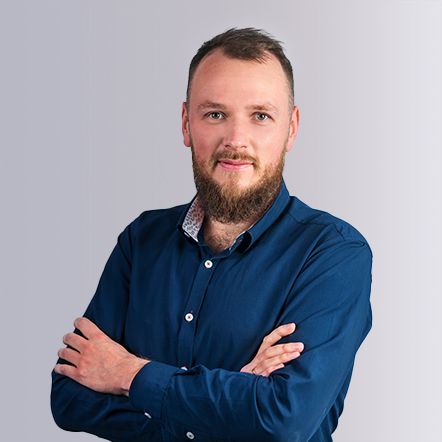 Launching a promotion takes us next to no time. Just one chat with your Account Manager, and you are all settled.
Yes, to launch a selected promotional tool, you need to have Wazdan's games in your portfolio. Don't worry if this is not the case–let us know, and we will take care of your integration quickly and smoothly.
The origin of each win and the prize type are clearly indicated in all of our promotional tools. The rewards are credited to players' wallets, and all further issues related to payout are at the discretion of the casino. A dedicated Credit Request or a reward is added to the total score of the round played. Therefore, no additional implementation is required.
Wazdan ensures complete security of all payouts. The origin of each win and the reward type are clearly indicated in all of our promotional tools to support the safety of the promotion.
The leaderboard disappears immediately upon the end of the promotion. Once the promotion is completed, you will receive the list of winners with a detailed report.
Running a promotion is a great way for your casino to gain visibility and a competitive advantage with no additional costs or effort involved. Wazdan promotional tools provide your players with enhanced entertainment and deeper immersion. In return, you get boosted player engagement, satisfaction, and loyalty, which translate into your revenue growth. In addition, you do not need to figure anything out, as your dedicated AM will take care of the whole process for you.
In the case of network promotions, Wazdan covers all the costs for you. However, if you wish to run a dedicated promotion tailored to your casino, your dedicated AM will be happy to discuss your particular needs and the potential costs involved.
Yes, by all means. Our promotions are designed to help your casino increase acquisition and retention. By providing your players with enhanced entertainment and deeper immersion levels, you can expect longer playtime and boosted player engagement, satisfaction, and loyalty. This means ramped-up KPIs and revenue growth.
No, Wazdan promotional tools are independent of the base game engine and don't interfere with its RTP levels. They provide a chance of winning a prize, regardless of the base game stake, volatility, and reel configuration.
Our promo tools are highly adaptable and allow for advanced customisation of various aspects such as prize types, language options, currencies, player segmentation (e.g., VIP, recreational), promotion duration and reactivation period, terms and conditions, automatic or manual payout, maximum reward limit per player, optional opt-in for players, minimum qualifying bet, and more.
Wazdan Promo Tools Make Satisfied Clients!
See what casinos appreciate most about our tools and working with our team.
"The Mystery Drop innovative promotion tool is absolutely thrilling. It requires no effort on operators side as Wazdan takes care of the whole process with full technical support. With automatic and instant payment system, players do not have to wait for their winnings. I highly recommend operators to join Mystery Drop to boost casino KPIs, increase player lifetime value, add excitement and provide additional winning possibilities."
"We are delighted to share our thoughts on Wazdan's Mystery Drop tool, which has truly exceeded our expectations. The functionality of this promo tool is simply outstanding, adding a new layer of excitement and engagement to our slot players' experience. The ease with which we were able to implement the Mystery Drop tool on our platform was impressive."
"Joining Wazdan's Mystery Drop promotion was a decision well made. The level of customization and personalization they offer is truly unparalleled. We were able to tweak and adjust the tool to perfectly align with our specific needs, which significantly enhanced our players' engagement."
"The Mystery Drop Tool is very smart and simple to manage! At the same time it's engaging for the players which results in enhanced gameplay. All in all, Mystery Drop is something we really enjoy!"