5 Reasons Why You Need to Visit Wazdan's Stand at iGB L!VE
Events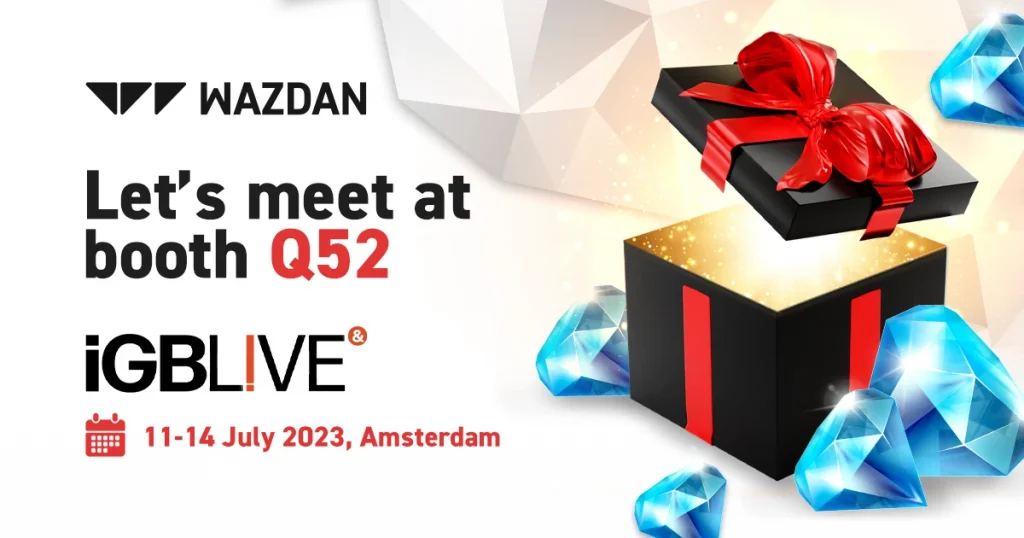 Ready for an unforgettable gaming experience? Look no further and visit Wazdan's stand at iGB L!VE! one of the premier events for the European iGaming industry! From 11 to 14 July 2023, we will be showcasing our latest innovations and cutting-edge technology in the RAI Amsterdam at stand Q52. But hold on, because we've got five stunning reasons why you shouldn't miss our showstopping exhibition!
1. Mystery Drop™ Giveaway with a chance for fabulous gifts!
At our stand, the adrenaline will pump through your veins as you take part in our sizzling Mystery Drop™ Giveaway! This exciting promotion offers the chance to win a variety of luxurious prizes, including fine spirits, Air Tags, and even real diamonds! Don't let this chance slip away, visit our website and register for the Mystery Drop™ Giveaway if you want to try your luck and walk away with great prizes: https://wazdan.com/igb-amsterdam-2023

2. Integrate with us in less than 60 minutes!
Integration is now easier and smoother than ever before! Casino operators attending iGB L!VE can take advantage of Wazdan's lightning-fast #InstantIntegration. Say goodbye to a lengthy process that makes you want to pull your hair out. At our stand, we'll show you how you can seamlessly integrate your platform with Wazdan in a flash – it will take less than 60 minutes! You'll be one step ahead of the competition. This streamlined process saves you valuable time and allows you to quickly offer our high-quality games to your players, expanding your game portfolio!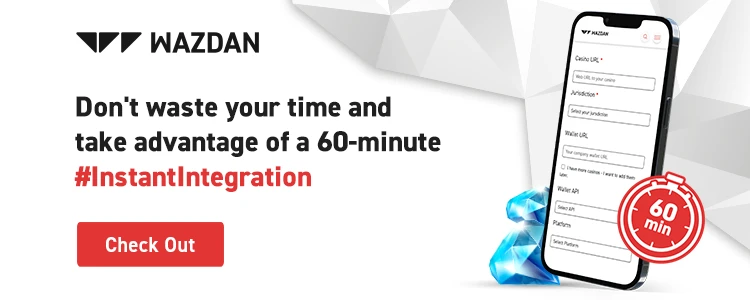 3. Join a slew of our amazing Mystery Drop™ network promotions with a whopping prize pool of €2,500,000!
Every year Wazdan takes the excitement of spinning to the next level with a series of network promotions. Hold on to your hats because we are about to make it rain with not one, not two, but three network promotions before the end of the year! We're talking about a jaw-dropping €2,500,000 prize pool fully covered by us. Be part of the action and try out our award-winning Game Feature of the Year – Mystery Drop™ promo tool. Get in on the action and watch the engagement skyrocket as players chase their dreams of hitting it big!
4. Experience the glittering sensation of our new diamond-themed games!
Prepare to dazzle your players with the newest Wazdan sensations – Mighty Symbols™: Diamonds and 9 Coins™ Grand Diamond Edition! These sparkling games will transport your players into a world of glitz and glamour, where the reels shine with every spin. Open up your portfolio and let there the brilliance of these diamond-themed slots. It is a glittering experience you have to show to your players!
5. Discover the future of gaming with our Extremely Light slots!
Get ready to witness a technological marvel! We're proud to present our revolutionary Extremely Light slots – lighter, faster, and eco-friendly, yet still mesmerising and engaging. Players with a slower internet connection or less advanced devices can also enjoy our games. This is an entirely new dimension of gaming as they experience the future of slots. The real game-changer that will leave them breathless.
Mark your calendars and get yourself to our stand Q52 at iGB Live! Be part of the gaming revolution, indulge in thrilling giveaways, immerse yourself in diamond-studded adventures, and witness the dawn of a new era in gaming technology. We'll be waiting for you with open arms, ready to blow your mind and create memories that will last a lifetime!



Visit our website for more information and sign up for Mystery Drop™ Giveaway! https://wazdan.com/igb-amsterdam-2023