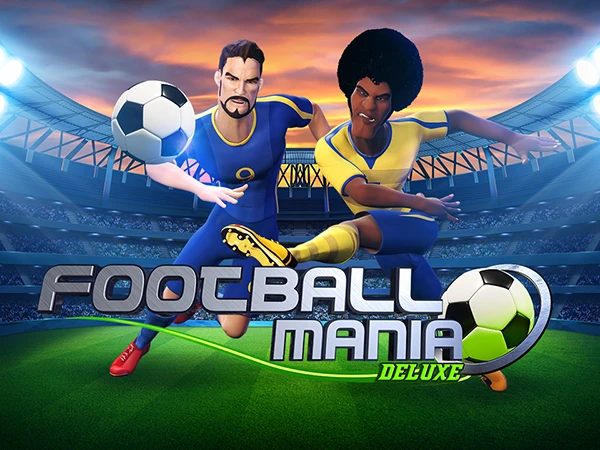 Let your players relive the thrills of a football frenzy and kick up your numbers!
Days

Hours

Minutes

Seconds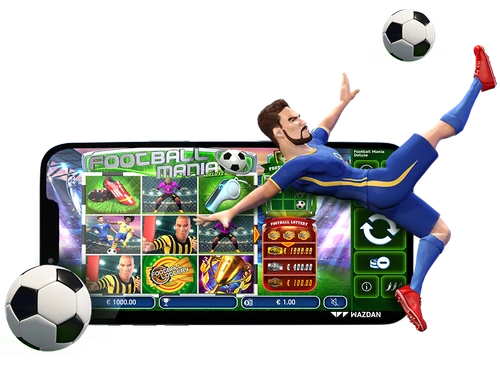 Revamped version of the popular slot
With its polished graphics and enhanced layout, Football Mania Deluxe brings the best its prequel had to offer.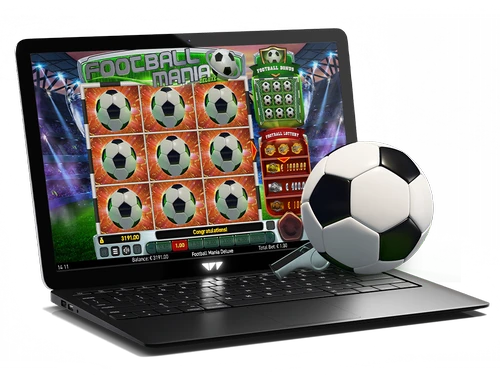 Football Bonus
The Football Bonus feature lets players feel like true professionals by collecting the match balls and rewarding them with an additional bonus round, where they can spin for some sizable wins!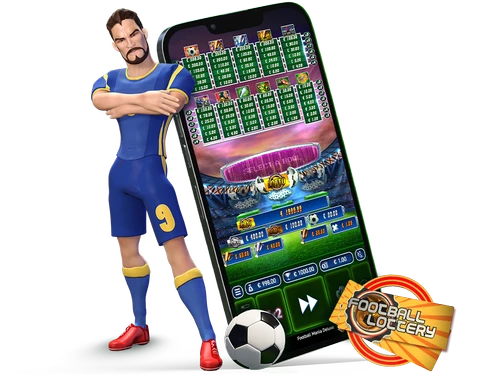 Football Lottery Bonus
Let your players test their luck in the Football Lottery Bonus, where they can pick one of the drawing baskets and win a prize of up to 1000x their bet.
Football Mania Deluxe delivers thrills and excitement levels reaching far beyond those that players can experience while watching a match of their favourite team.
This revamped and improved version of its predecessor is sure to delight many fans, as not only does it bring a new reel design, but offers the same engaging features as the good old Football Mania. These include Football Bonus and Football Lottery bonus which make this slot such a screamer!
Think your players can beat the goalkeeper? Add this slot to your casino and find out!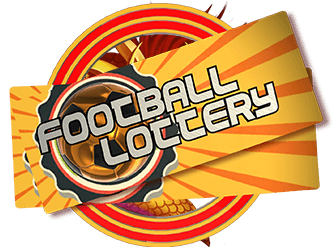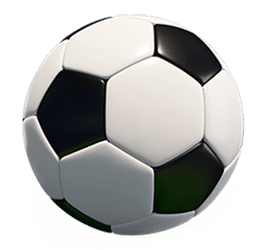 Features
Block Symbols Mode
Football Bonus
Football Lottery Bonus
Energy Saving Mode
Unique Gamble Feature
Volatility Levels™
Ultra Fast Mode
Big Screen Mode
Availability
30+ Languages
All Currencies
All Platforms
Quick API Integration
All Major Aggregators
Markets
Provide your players with the best seasonal promotion, using the award-winning Mystery Drop™ promo tool!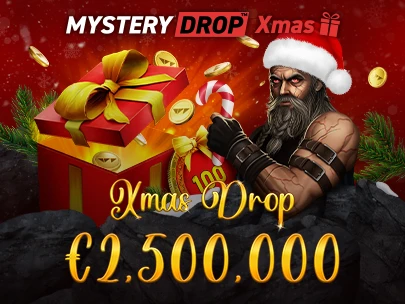 Football Mania Deluxe - read more
So, you had a great time in Football Mania, scored big wins, and now you are wondering what to do next. Well, the answer to that is simple – try out the thrilling Football Mania Deluxe! This enhanced slot will drive you crazy (in a good way, of course) and you'll find yourself spinning regardless of the football calendar! Football Mania Deluxe brings to the table the best a sports-themed slot has to offer – engaging gameplay, an immersive soundtrack, and stunning graphics, which now look extra deluxe.
This exciting slot comes with all the thrills & wins its prequel included, yet the feeling of the spinning is incomparable thanks to twists to the layout of the game.
Speaking of the layout – let's talk symbols now because there is a lot to talk about. Base game symbols you can encounter are very detailed and each of them is unique. The symbols that can be drawn are a pair of red football boots, a referee with a red card, two players dribbling, a whistle, a goalkeeper, and a hat with trumpets and flags in the background. Yeah, the last one is a bit much. But that's not all! It wouldn't be a football game if it didn't include bronze, silver, and gold trophies! Landing all the symbols mentioned in a combination grants you a win but wait until you hear this: drawing a Football Bonus symbol which looks like a football (shocking, I know) is an entry ticket to the Football Bonus round!
Football Bonus… what a worldie that is. At the beginning, this bonus may look complicated, but trust me – it's as easy as scoring an empty goal. While playing, you will be landing Football Bonus symbols which upon drawing will be switching on the corresponding field in the Football Bonus Matrix Table. Once the Football Bonus Matrix Table is all filled with footballs – it is show time. Tie your shoes, big-game player because now it's your time to shine – to enter the thrilling Football Bonus round you need to score at least three Football Bonus symbols in a spin. So, you must score a hat trick, so to speak. If you manage to take the match ball home, you will be granted 9 Bonus Spins. All previously drawn Football Bonus symbols remain blocked and each next Football symbol in the following spins will join the blocked ones. After finishing the Football Bonus game, you will get rewarded for each football scored onto the reels. Exciting, huh? Well, wait until you hear about…
Football Lottery Bonus! The only symbol I haven't mentioned yet is the Football Lottery symbol, and it is breathtaking! It is common knowledge professional football players don't get their fortune only from their stunts on the pitch and neither should you. The bonus is activated by covering three middle reels with Lottery Bonus symbols and after that, you are transferred to the drawing room. There you will have an opportunity to grab some big prizes by drawing a ticket from one of the lottery baskets. The value of the winnings ranges from 1x up to 1000x player's bet! Now those are some golden tickets!
Obviously, those bonus rounds are fun and all, but what if I tell you there is a feature that will help you enter them? Tie your shoes and get ready to shuffle, because Block Symbols Mode is here to assist you! During the base game spinning the game will automatically block some symbols so that they will remain on the reels for one more spin. The game locks the best potential symbol combination, but if you feel like you know how to manage a football team, you can try and choose any other configuration to remain on the reels! Do you play with your kit inside or outside shorts? Short sleeves or long sleeves?
Do you like to have control over your experience, no matter what you do? Good news for you then, because this slot includes Unique Wazdan Features that allow you to customise your gameplay to your needs! Features such as Big Screen Mode, Ultra Fast Mode, or Volatility Levels™, all of which offer the best Wazdan's slots have to offer!
This slot will be a screamer no matter if you like football or not – it will simply awe you with its exciting gameplay and win-promoting features. The revamped graphics are top-notch, so don't be surprised if you find yourself immersed in spinning and winning all day long!
No defenders are going to stop you from getting big wins in Football Mania Deluxe!
read more