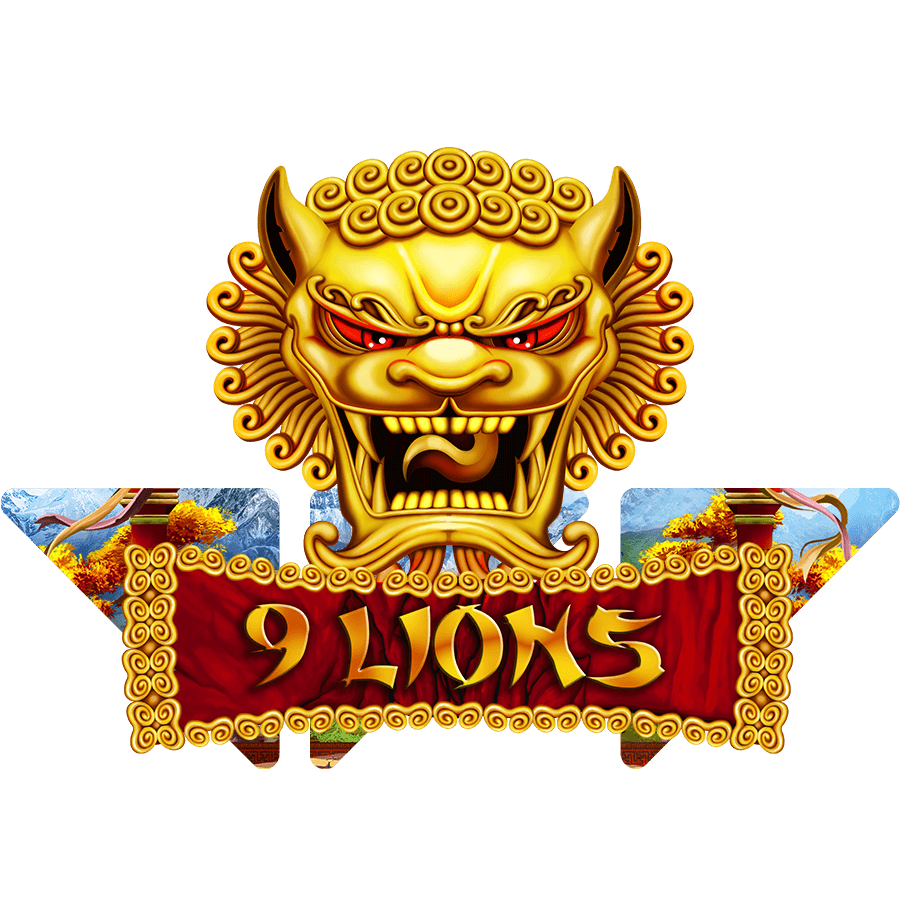 9 Lions
The winner of G2E Asia Hot Product Award, 9 Lions is yours for the taking!
Download game assets
Sitting at the top of a mystic mountain is the temple devoted to 9 Lions – ancient gods that bring luck to their true followers. Together with other deities of fortune and their special bonuses, these beasts create an extraordinary experience that has garnered exceptional popularity amongst the crowds!
9 Lions, our winner of G2E Asia Hot Product Award in 2018, is a unique video slot in which traditional reels and paylines are replaced with 9 separate symbols fields. Winning combinations are created by getting a required number of the same symbol anywhere on these fields. To make this even more interesting, players can block symbols that landed on reels in order to try and use them to create a winning combination on the next spin. The titular 9 Lions have their own bonus feature, where gathering 9 of them on a special Lions Bonus Matrix Table activates 9 Bonus Spins. Secondly, there's also the Dragons Bonus, activated with the symbols of these mythical beasts, which gives players a chance to pick and select a bonus prize.
But gameplay is not the only outstanding element of this game. What brought it its huge popularity are the enchantingly beautiful graphics – detailed backgrounds, elegant and functional user interface and gorgeous symbols. Together with a pleasing music playing in the background they create a truly award-winning experience.
Thousands of players can't be wrong – you will immediately fall in love with 9 Lions!
Game Info
Game type: Slots
Reels / Lines: 9 / 0
RTP: 96.59%
Max Win: 1000x bet
Game features
Block Symbols Mode
Dragons Bonus
Lions Bonus
Markets
Languages
English
Polish
German
French
Italian
Spanish
Japanese
Russian
Portuguese
Simplified Chinese
Swedish
Turkish
Romanian
Bulgarian
Estonian
Latvian
Hungarian
Lithuanian
Armenian
Finnish
Serbian
Norwegian
Danish
Greek
Dutch
Platforms and Supported OS

Computer

Laptop

Tablet

Mobile

Windows

Apple

Android

HTML5

iOS
Lions Bonus
Filling the bonus matrix table with Gold Lion symbols and landing at least three more Lion symbols in a single spin activates the Lions Bonus. The aim of this bonus game is to collect as many Lions as possible during 9 Bonus Spins to win prizes reaching 500x players' bet.
Dragons Bonus
Drawing 3 Dragon symbols on three middle reels activates the Dragons Bonus which takes players to an ancient temple where three dragon eggs are waiting for lucky adventurers. Hidden inside the eggs are prizes of up to 1000x players' bet.
Unique Gamble Feature
Those who choose the correct coin will be greatly rewarded! With the help of Unique Gamble Feature players get the opportunity to easily double their wins.
Mega Wins
The majestic golden lion is guarding the hidden treasure – with the help of this mythical beast players can win up to 1000x their stake!
Ultra Fast Mode
Ultra Fast Mode allows players to boost the gameplay to some pretty intense speeds. With this feature on, the reels spin in a blink of an eye! This feature is perfect for those who wish to enjoy a really dynamic experience.
Big Screen Mode
Big Screen Mode allows players to enlarge the reels view so that it fills the entire screen, allowing players to focus exclusively on the thrilling action taking place on the reels. With two zoom modes to choose from, players can adjust how the game is displayed on their devices.
9 Reels
The winner of G2E Asia Hot Product Award, 9 Lions is a 9-reel slot offering two generous bonus games and prizes of up to 1000x players' bet.
Block Symbols Mode
The game automatically locks symbol combinations with the best potential to win. Players can either stick with the locked symbols or they can release them and choose other symbol to remain on the reels for another spin. This feature is a hit among those players who enjoy an element of strategy in their gameplay.