SlotGods.co.uk interview with Andrzej Hyla: What makes Hold the Jackpot™ slots so popular
In the Press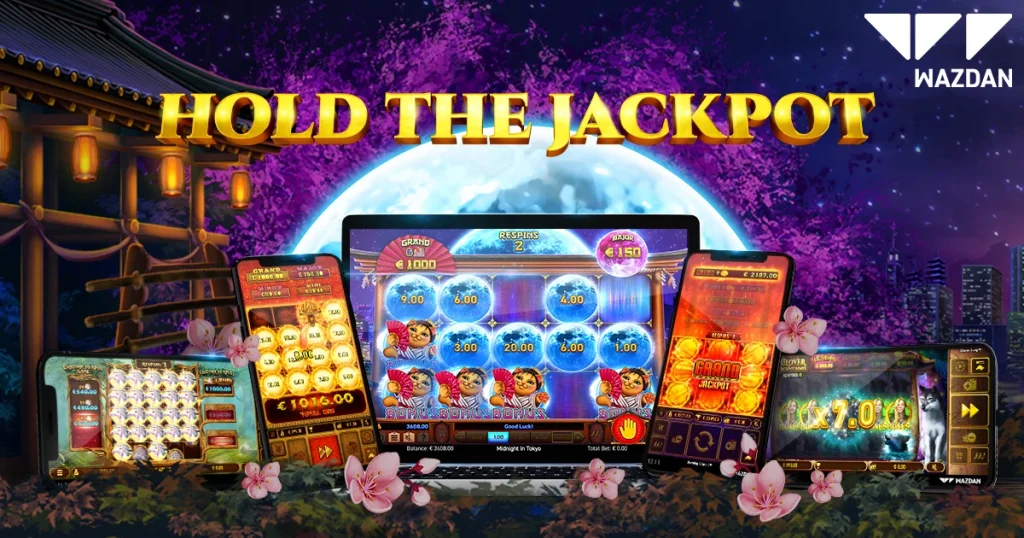 What can players expect from Wazdan's Hold the Jackpot™ mechanic?
Despite being incredibly popular and well-received amongst slot enthusiasts, many players still question the Hold the Jackpot™ mechanic from Wazdan. There are still some confused players unsure of how the mechanic works.
Thankfully, the team at Slot Gods decided to go straight to the source to find out all the ins and outs of the mechanic straight from Andrzej Hyla, the Chief Commercial Officer (CCO) at Wazdan. If you've ever wanted the full breakdown of the Hold the Jackpot™ mechanic, then you've come to the right place.
What is Wazdan's Hold the Jackpot™ mechanic?
With an abundance of fascinating and engaging mechanics emerging in the iGaming sphere for operators to choose from, standing out from the crowd is a challenge that developers face on a daily basis. That said, Wazdan's innovative Hold the Jackpot™ collection is taking the industry by storm, delivering a unique version of the mechanic in each title that it stars in.
Passionate slot followers may already be familiar with Hold the Jackpot™ titles like Power of Gods™: Hades, Fortune Reels, and Sun of Fortune, but may not realise that they may find slots offering a staggering 16,777,216 ways to win (Jelly Reels™), or prizes worth up to a massive 15,000x player's bet (Sizzling Bells™) in the Hold the Jackpot™ series.
In each slot, Wazdan finds a way to re-invent the feature so that players can enjoy a real variety of outcomes and experiences. Whether it's adding bigger jackpots and new Bonus symbols, or providing distinctive layouts, innovative features, and cumulative prizes, each title finds a way to stand out in the collection.
With more titles in development, Wazdan continues going above and beyond to amaze players worldwide.
An engaging feature, but how exactly does it work?
In short, each time the Hold the Jackpot™ bonus round is triggered, the player is provided with three Re-Spins. This number resets every time a new symbol is drawn on the reels, adding even more excitement to what is an already watertight feature.
Each new title added to the collection utilises its own iteration of the mechanic to provide distinctive outcomes and immersive gaming experiences each time they are played. For example, Power of Gods™: Hades introduces the ground-breaking Sticky Bonus symbols, which are designed to stick to the reels for a set number of Re-Spins in order to drastically increase the chances of activating the Hold the Jackpot™ bonus round.
On the other hand, the new Magic Spins™ slot allows players to use the innovative Collect to Infinity™ feature to boost the Collector symbol powers and increase their total win to infinity.
What are the best Hold the Jackpot™ games?
The collection encompasses 15 games at the time of writing, including Unicorn Reels, Clover Lady™, Burning Stars 3™, Sun of Fortune, Prosperity Pearls, Midnight in Tokyo, Fortune Reels, Power of Gods™: Hades, Sizzling Bells™, Jelly Reels™, Power of Gods™: Medusa, Sizzling Moon™, Dwarfs Fortune™, Magic Spins™, and 9 Burning Dragons.
That said, players will be pressed to find any two games that are alike. Wazdan stays true to its commitment to originality, elevating the feature to new heights in a different way in each new release.
Loyal followers of Hold the Jackpot™ titles can choose from a range of themes and gaming experiences, from crossing the river Styx in order to reach the underworld in Power of Gods™: Hades and entering the lair of an ancient Gorgon in Power of Gods™: Medusa, to fighting Asian kung-fu cats in Midnight in Tokyo and navigating through underground mines in search of untold riches in Dwarfs Fortune™.
Furthermore, Wazdan customers can bring another layer of customisation to their playing experience by using Volatility Levels™. Available in all Hold the Jackpot™ products, Volatility Levels™ is Wazdan's proprietary feature that allows players to determine their win size and frequency to facilitate their specific preferences, making gameplay a perfect fit for their unique needs.
Interview originally published on SlotGods.co.uk