PlayCasino.com interview with Izabela Slodkowska-Popiel: Wazdan's growth in the iGaming business
In the Press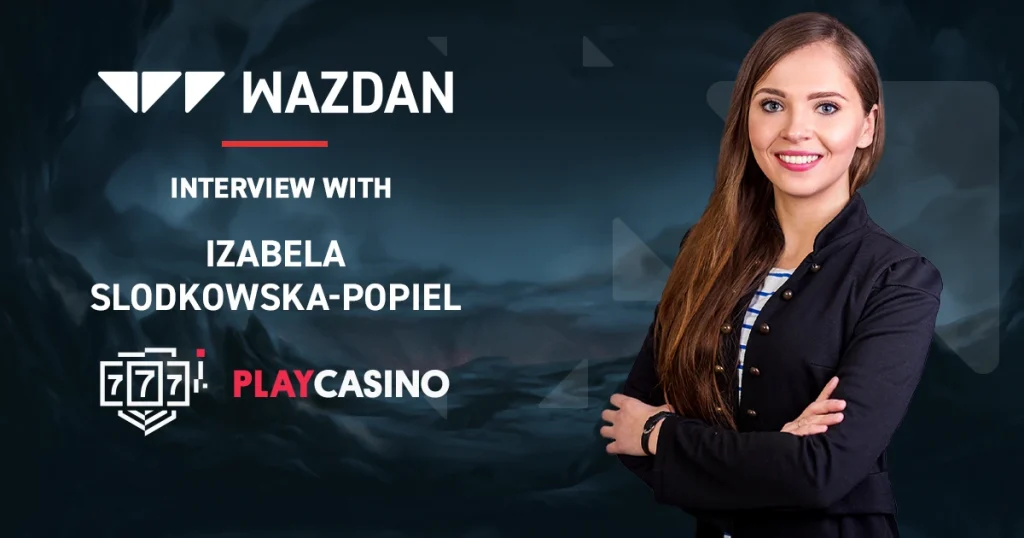 PlayCasino.com had the opportunity of interviewing Izabela Slodkowska-Popiel, Head of Account Management for North America and Latin America at Wazdan.
Please introduce yourself and tell us more about your role in Wazdan.
Thank you for having me! My name is Izabela and I joined Wazdan roughly eight years ago, starting off as an Account Manager and progressing my way through the ranks to my current position of Head of Account Management for North America and Latin America.
As a company that is stacked full of iGaming enthusiasts, it pays to know your craft, and pairing this with a strong work ethic has enabled me to rise through the organisation to levels that I never could have envisioned when I first started off. I love working at Wazdan, as it brings constant opportunities to develop and grow in a dynamic environment. I'm happy I can be a part of the team that produces some of the best online slots in the industry.
You are active for +10 years and always focusing on the future. On your portal, you write that your goal is to "push the iGaming technology forward!". Would you tell us how?
By placing the player at the forefront of everything we do, we can stay ahead of the competitors by producing games with innovative features, exceptional visuals, and imaginative storylines.
It's never easy to predict how a new product will be received, or in what form a new industry trend will arrive. However, by delivering a sense of control and customisation over the experiences we provide to players and operators with our Freedom of Choice™ suite and with innovative game features such as Collect to Infinity™, Cash Infinity™, Sticky to Infinity™, and Hold the Jackpot™, we give ourselves the best chance to succeed.
You are making your journey into more and more countries. As of now, you are present in over 20 countries. You hold the UKGC and the MGA. How difficult is it to work in so many countries at the same time? Which are the challenges different countries take with them?
We work tirelessly to ensure that our games meet the strict standards set by the industry's regulators when entering newly regulated markets. This requires us to be attentive and familiar with all the regulatory restrictions that are in place in the countries that we operate in, in order to comply with them to the fullest degree.
We have recently observed a positive trend of governmental bodies acknowledging the importance of rigid iGaming regulations following examples set by other major markets and expect the trend to continue heading in this direction.
Are you planning to enter new countries in the coming future?
This year we received approval from the Alcohol and Gaming Commission of Ontario (AGCO), and on the European front, and we have recently entered Spain, Italy, Bulgaria, and the Netherlands.
We'll continue to further develop our partnerships with reputable casino operators in regulated markets around the world. We are also working towards new certifications, including newly regulated US markets like Pennsylvania and Connecticut. The US market continues to hit incredible heights, and we can't wait to hit the ground running in more states very soon.
What makes Wazdan different from other Software Providers in the iGaming field?
At Wazdan, we live and breathe innovation and always strive to come up with engaging themes and innovative features. We do our best to be seen as trendsetters in the iGaming space and keep up to date with new technologies, although it's not always easy to create innovative experiences in such a saturated market.
That said, we work hard to provide our players with unique gaming experiences in every new title we release. For example, we allow them to adjust the game to their own preferences, using Volatility Levels™, which is a customisation feature that no other provider can offer. By listening to our customers and partners and trying to meet their needs, we really do stand out as a client-centric provider in the iGaming landscape.
Which was your most successful product so far?
Released in July, 9 Coins™ slot has quickly established itself as a top-performing title in our collection thanks to the inclusion of the innovative Cash Infinity™ mechanic, which improves player engagement and amplifies retention rates.
Building off the popularity of the original, we decided to release more games in the series. 9 Coins™: 1000 Edition and 9 Coins™: Grand Gold Edition charm players with a bigger Grand Jackpot of 1000x and 1500x player's bet respectively. Both games offer the popular Hold the Jackpot™ bonus round and the ground-breaking Cash Infinity™ mechanic, which give our partners additional opportunities to maximise their revenue and boost key metrics.
Which is your favourite game?
My all-time favourite Wazdan game is our top-performing 9 Lions slot. I love its oriental theme, dynamic gameplay, and thrilling bonus rounds that increase player engagement.
Recently, Sizzling Kingdom™: Bison has become one of my favourite slots. The game offers everything Wazdan slots are known for: marvellous graphics, stunning animations and sound effects, as well as innovative bonus features.

You recently released new games' features such as Collect to Infinity™ or Cash Infinity™. We know they are available in the 9 Coins™ game, but can we find them in other slots? Can you get into details and explain to us how they work?
Our Collect to Infinity™ feature is available in the Free Spins and Hold the Jackpot™ rounds, giving players the ability to trigger seemingly endless combinations and outcomes, and demonstrating its entertainment value.
You can find the Collect to Infinity™ feature in the Magic Spins™ slot, which saw a 129% increase in betting totals in the first week after launch compared to another top-performing title, Fortune Reels. This engagement-boosting feature is also available in Sizzling Eggs™, Sizzling Kingdom™: Bison, and Hot Slot™: Magic Bombs.
Meanwhile, 9 Coins™ features Cash Infinity™, which makes players come back for more and ramps up our partners' metrics. This innovative feature will soon appear in other games in the 9 Coins™ series, as well as the upcoming Power of Sun™: Svarog slot.
Any new game or new feature in the pipeline?
Our latest release, Hot Slot™: Magic Bombs, saw the debut of our Sticky to Infinity™ mechanic, which is another engagement-boosting feature developed to maximise operators' revenue. This brand-new mechanic allows players to stick Jackpot Mystery symbols to the reels until the end of the Free Spins bonus round, awarding Jackpots and explosive wins.
Beyond that, our upcoming release Hot Slot™: Magic Pearls invites players to venture below the waves and into the deep blue and is drenched in exciting features, including the Hold the Jackpot™ bonus round. The game is set to go live on the 10th of November. Two weeks after the release is the launch of Burning Sun™ on the 24th of November, which also features the Sticky to Infinity™ feature and the Hold the Jackpot™ bonus round. In December, players will be able to enjoy 9 Coins™ Grand Gold Edition and Hot Slot™: Mystery Jackpot Joker and we're going to start the new year off with the release of Power of Sun™: Svarog.
Is there anything you want to add?
It's been a great year for Wazdan, as we have entered new markets, won a number of prestigious awards, released new thrilling games and innovative features, and taken part in various industry events. We'd like to invite our partners to booth B46 at the upcoming SiGMA Europe for a sneak peek at our upcoming games. See you there!
Interview originally published on PlayCasino.com