List.Casino interview with Magdalena Wojdyla: What to Expect in 2023?
In the Press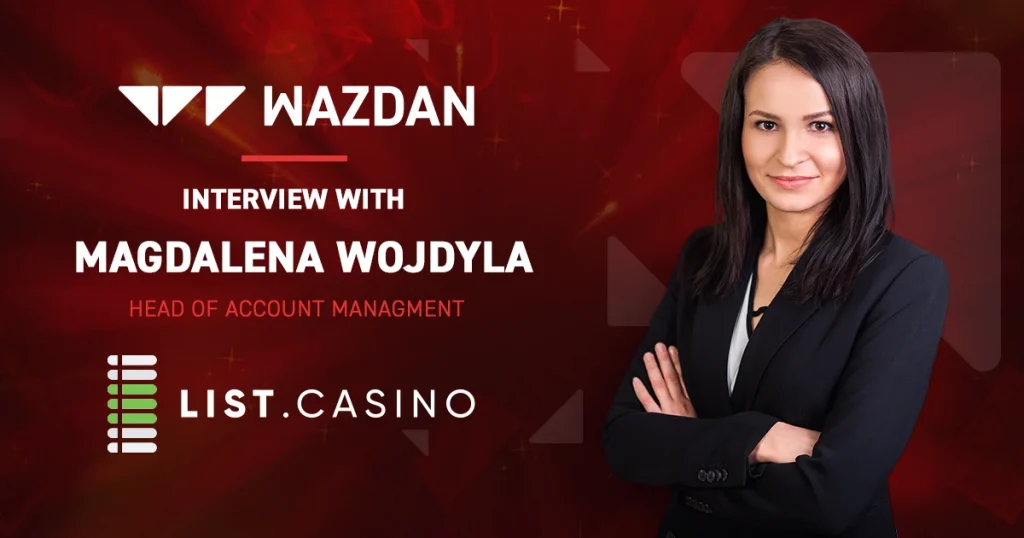 List.Casino had the opportunity of interviewing Magadelna Wojdyla, Head of Account Management for Europe at Wazdan.
The last quarter of 2022 is the perfect time to do some reflection. How has the year been so far for Wazdan in terms of business and new products?
This has been an unbelievably successful year for Wazdan! This is clearly exemplified by our winning of a number of high-profile awards. These include two accolades at the Baltic and Scandinavian Gaming Awards for Best Slots Provider in the Baltics (B2B) and Rising Star in Nordic Online Casino Technology, Best Online Casino Provider Award at CEEG Awards, as well as the Innovator 2022 title at SlotsWise Awards. We have also been nominated for 37 prestigious industry awards.
As we continue to launch our content in the US, it was particularly encouraging to be named the Silver Winner at the SBC North America Awards. It shows that both players and operators are really connecting with our offering. Our expansion into the US saw us roll out in Michigan, but we also entered the Netherlands, Ontario, Bulgaria, Italy, Czech Republic, and Spain during 2022.
It was also fantastic to have events back in full swing this year, with Wazdan delegates present at ICE London, iGB Live!, CasinoBeats Summit, SBC Summit North America, SBC Barcelona, G2E Las Vegas, and SiGMA Europe.
Needless to say, games remain the most fundamental aspect of our business, and this year saw us release some unforgettable titles. We have released 17 new, innovative and feature-filled slots, including Magic Spins™, Sizzling Eggs™, Power of Gods™: Valhalla, Sizzling Kingdom™: Bison, a few Hot Slot™ titles,and our top-performing 9 Coins™ slot, which became one of the most popular games in our collection thanks to the intuitive Cash Infinity™ mechanic. This slot went on to outdo large swathes of the competition and has certainly been one of our most successful titles to date, so we decided to create not one, but two sequels in the 9 Coins™ series. What is more, this superb game has been nominated for the Game of the Year title at the 2023 editions of the prestigious Global Gaming Awards and International Gaming Awards.
We also introduced exciting new features that have resonated massively in the industry, including Collect to Infinity™, Cash Infinity™, and Sticky to Infinity™.
You have become known as a powerhouse in game innovation. How much effort do you put into research and development and how do you plan to maintain your status as pioneers in the industry?
We're constantly striving to develop more innovative ways of improving player engagement so that the portfolios of our operator partners are filled with games that players get excited about. This is a challenge, to say the least, but luckily our business is filled with personnel who is passionate about producing best-in-class experiences for players. This dedication is what defines the first-class nature of our offering.
But despite this reputation and the corresponding awards, we're not going to slow down on development or expansion any time soon. We'll continue to innovate and deliver games that drive the industry forward.
The best examples of how we've done this recently are our flagship features introduced this year – Collect to Infinity™, Cash Infinity™, and Sticky to Infinity™. These innovations boost player engagement and deliver proven results for our partners.
Wazdan already has multiple trademark solutions for its products. What kind of role do these innovations play in your game-building philosophy?
It goes hand in hand with our core aim – we want to create unforgettable experiences for players, which means consistently offering them something they haven't seen before and making gaming more streamlined.
Our Freedom of Choice™ suite is a perfect illustration of that, allowing players to customise the experience to their own unique preferences including controlling Volatility Levels™. As a result, players can easily adjust the volatility of the gameplay, allowing them to modify both the size and the frequency of their wins. If their preference is high volatility bringing bigger wins but less often, they have the control to adjust that for themselves.
We recently expanded the Volatility Levels™ offering to allow casino managers to choose a default level for their players. For VIP managers or certain promotions, this widespread control can offer significant value for our partners.
This dedication to innovations means that we have a whole host of tier-one engagement features that can only be found in our games. These include, for example, Hold the Jackpot™, Wild Rampage™, Cash Rain™, Matrix Reels™, and Hold&Collect™.
Players have loved Wazdan's latest Infinity™ features. Could you tell us what makes them so special?
During the year we developed three Infinity™ features, with the aim of boosting player engagement as well as our partners' revenue – Cash Infinity™, Collect to Infinity™, and Sticky to Infinity™.
These have delivered exactly as we had hoped, boosting engagement through high immersion.
Collect to Infinity™ enhances the player's experience by adding an element of uncertainty and mystery to the outcomes of the gameplay. What is more, the potential for wins is also upped with the introduction of Collector symbols. The unique ability of the Collector symbols is accumulating Cash symbol values during the bonus round, which goes all the way to infinity, as the name would suggest. The mechanism is intended to increase player engagement through bigger wins, but it has an equally impressive ability to amplify the KPIs of our partners, making it a truly exceptional retention-boosting tool.
Meanwhile, Cash Infinity™ improves the audience's chances of activating the bonus round. The genius of the innovation is in its simplicity, with players immediately able to understand how to use it and how they benefit from it.
And then finally – Sticky to Infinity™, which aims to keep players immersed in the gameplay for longer. While enjoying the base game and exciting bonus rounds, players can hit upon a variety of Jackpot Mystery symbols by way of the Sticky to Infinity™ feature. These stick to the reels right up until the bonus round finishes. When the bonus round feature comes to an end, players will be delighted to see the Jackpot Mystery symbols open one by one, awarding Jackpots and triggering a veritable explosion of wins.
Our latest releases, such as Burning Sun™ or 9 Coins™ Grand Gold Edition, have already illustrated that engagement is boosted enormously with the help of these features.
What is next on the menu? Can you reveal anything about your future plans and products? What can we expect from Wazdan in the upcoming months?
It goes without saying that we are working on some of the most exciting games and features, which we are looking forward to sharing.
We're going to start the new year off with a bang with the release of Power of Sun™: Svarog – the first game in a brand-new slot series, offering all our best engagement features: Hold the Jackpot™, Cash Infinity™, and Sticky to Infinity™ – the combinations of all three in a brand-new series is a deeply exciting prospect for everyone here at Wazdan.
Other games scheduled for release in Q1 of 2023 include exciting new additions to our top-performing, retro Hot Slot™ series: Hot Slot™: 777 Stars, Hot Slot™: 777 Rubies, Hot Slot™: Great Book of Magic, Hot Slot™: 777 Cash Out, Hot Slot™: 777 Coins, as well as new Mystery Kingdom™: Mystery Bells slot.
In terms of expansion, we're looking to broaden our reach with entry to the US states of Pennsylvania and Connecticut and look forward to the new partnerships that this will bring. With that in mind, we're committed to surpassing ourselves once more, and next year already appears to be just as promising as this one!
Wishing you and your readers health and happiness in 2023. May this new year be full of adventure and big wins. Happy New Year!
Interview originally published on List.Casino.