Bojoko interview with Magdalena Wojdyla: Innovation is our driving force
In the Press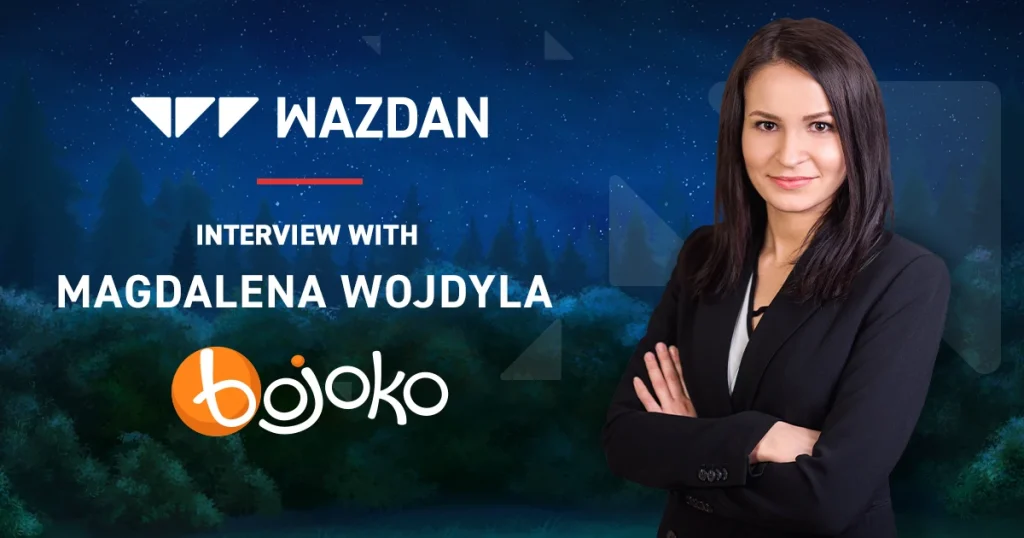 Tell us more about one of the newest Wazdan's features, Collect to Infinity™, how it works and what it brings to players in terms of added value and entertainment?
Frankly, we're delighted by how strongly this new feature has resonated with players. It is being offered as part of our Hold the Jackpot™ or Free Spins bonus rounds and has had a phenomenal impact. As a truly dynamic tool, the feature works differently depending on the game the player is enjoying. This ensures that each game stands out even more from the competition, but first and foremost, it makes the game more engaging for players and helps operators maximise retention.
At the moment, we offer four games that include Collect to Infinity™: Magic Spins™, Sizzling Eggs™, Sizzling Kingdom™: Bison, and our brand-new Hot Slot™: Magic Bombs. The uptake of these games has been massive and that is due in no small part to the dynamic feature that keeps players on their toes with apparently endless potential combinations.
Your most recent feature, Cash Infinity™, which is currently only available on your game 9 Coins™ is also intriguing, with the unique Cash Infinity™ symbols becoming sticky in the base game until the Hold the Jackpot™ Bonus game is activated. What do you think is the most appealing part of this feature and what are players missing out on if they have not tried 9 Coins™ yet?
Our new Cash Infinity™ mechanic is a game-changing solution that increases the chances of activating the bonus round. It's an excellent retention-boosting tool that also amplifies casino results, making the player feel more in control of their experience.
9 Coins™ was the first game to include this feature and rapidly proved itself as our best-performing slot of the year. As a result, we recently introduced it to the follow-up game 9 Coins™ 1000 Edition as well. This game boasts an increased Grand Jackpot win of 1000x the player's bet and has all the right ingredients and slots pedigree to become another Wazdan hit.
How did you come up with these two innovative mechanics? Were they challenging to develop?
Innovation is our driving force, and in that way we see ourselves as the facilitators of growth, both for ourselves and for our operator partners. This is why players who discover our games keep coming back for more. That's not to say that every feature is easy for us to create. Quite the contrary, we work tirelessly to ensure that each one will resonate with players, conjuring an unforgettable experience that maximises ROI for our partners.
As a company whose mission was built around a passion for games, we're confident that we'll meet every challenge that comes our way and deliver upon this promise. Thanks to creativity, commitment, and passion for games of our amazing team, we continue to move forward and grow every day.
Both of these new mechanics are linked to bonus rounds. Do you feel that there is still a lot more to discover in making slots' bonus rounds even more engaging?
Constant innovation is our mantra, and it's entirely necessary if the aim is to stay ahead of the crowd. There is always more that can be discovered, and existing tools can always be improved upon. This is because player tastes and requirements are always developing. While it's true that some games and features remain evergreen, for the most part, we need to keep moving because their tastes evolve and become more discerning with time.
The moment you stop trying to be better is the moment you stop being great and that's another philosophy we try to live by when developing or wares further because we never rest on our laurels. Our Collect to Infinity™ and Cash Infinity™ features clearly illustrate that we are at the fore of what the bonus round can offer, and we will continue to drive this narrative forward.
Collect to Infinity™ is currently used in four games and Cash Infinity™ in two. Will there be more games featuring these mechanics?
We've just released Hot Slot™: Magic Bombs with the Collect to Infinity™ feature. What is more, this new amazing game offers a brand-new engagement-boosting mechanic, Sticky to Infinity™. When combined, both features can provide players with massive wins up to 6,000x their bet.
9 Coins was such an instant and phenomenal success that we needed to follow up with 9 Coins™: 1000 Edition and 9 Coins™: Grand Gold Edition, which also feature Cash Infinity™. It's worth mentioning that all of these updates come as a result of player feedback. We're well-known for prioritising the end-user experiences and that has once again served us well.
Cash Infinity™ is built from the ground up to enhance player experience so it plays a prominent role in boosting engagement and amplifying retention rates in this way. We'll also soon release another slot with this player-favourite feature, Power of Sun™: Svarog, so stay tuned!
Can you tell us more about the Sticky to Infinity™ feature?
This mechanic aims to keep players immersed in the gameplay for longer. While enjoying the base game and the Free Spins feature, users can hit upon Jackpot Mystery symbols with the Sticky to Infinity™ feature. These symbols stick to the reels right up until the bonus round finishes, increasing player engagement by guaranteeing a Jackpot win. When the Free Spins feature comes to an end, players will be delighted to see the Jackpot Mystery symbols open up one by one, awarding Jackpots and triggering a veritable explosion of wins.
Will you be looking at adding even more special futures in the near future, and if so, can you give us any hints on what they might be?
It's our mission to ensure that our partners have the tools to ensure their continued success. As I said earlier, players and their needs and tastes grow and evolve, so in order to provide this service our features need to do the same. With that in mind, it's safe to say that we'll be introducing more special features in the not-too-distant future and those will reflect the needs of players. Stay tuned!
Interview originally published on Bojoko.com