5 Reasons You Don't Want to Miss Wazdan Stand at G2E Las Vegas
Events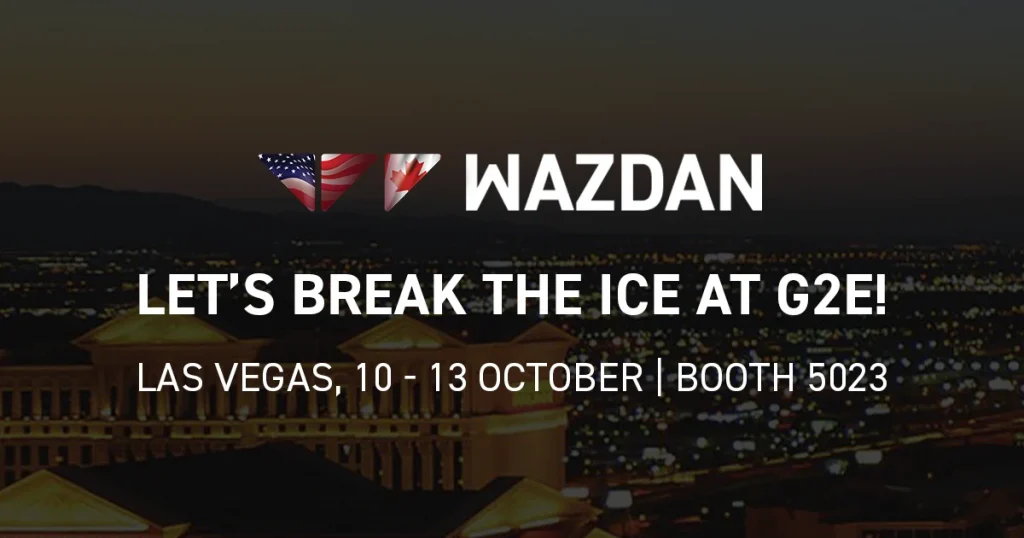 Are you attending G2E Las Vegas on October 10-13? Have you heard of Wazdan?
Yes? Come and see us at booth 5023 to get familiar with our offer!
No? Then all the more reasons for you to drop by! Because you don't want to miss out on your chance of standing out from the casino crowd with unique content and meeting a reliable partner who understands the intricacies of the strictest legal requirements across jurisdictions.

In case you might have missed it…
Wazdan is one of the fastest-growing European iGaming content studios based in Malta. We are proud to lead the way on innovation in casino content development, boasting over 10 years of accolades and more than 150 games in our portfolio. Present in over 20 markets and jurisdictions worldwide, we are currently expanding our footprint in North America, with more than 50 of our best-performing games already certified across New Jersey, West Virginia, Michigan, Pennsylvania, and Ontario.
If this hasn't convinced you enough to meet with us, let us give you more reasons below!
1. You will find out that you can target different player segments with one game only
Are you still one of those casinos whose title selection revolves around segments of players and their waging preferences? Is it either recreational players OR high-rollers? Then you should definitely get familiar with Volatility Levels™, our ingenious, operator-favorite tool. It allows players to set and change their preferred volatility at any time during the gameplay, accommodating all types of players, from recreational to high-rollers! On top of this, its extended capabilities provide casinos with advanced tools to target selected player groups. This feature is the crown of our offering, so do not forget to ask us about it!
2. You'll explore the new dimension of customization
Customization is the secret formula to engagement. It keeps players satisfied, loyal, and coming back for more. We dare to claim we have grown our cutting-edge player customization suite to an unparalleled level. Whatever your users need, we have it! Every single game comes with multiple settings and features that allow players to personalize and control their gameplay. From screen display options and battery saving mode through game loading time and game pace settings to adjustable volatility, on-demand access to desired bonuses, and a chance to double wins. Shall we continue? We'll be happy to fill you in!
3. We'll make integration feel like a walk in the park
Enjoy a fast track in launching our games, whether by integrating directly with us or a renowned local aggregator. We can make your integration with us happen in as little as one day. We achieved this before. And it's not a tall story, maybe a little bit of a brag. While we are aware that this may not always be the case, we aspire to minimize our turnaround time. No matter the API and your technical requirements, we've probably been there, done that, and will make the process as effortless as possible. Not interested in direct integration? Worry not! Our portfolio of top-performing games is also available through Light & Wonder. Whatever your preference, we will make it happen for you and provide our expert technical support!
4. You will discover a new online casino content standard
Does the local iGaming offering seem like old news to you? While we've taken the European industry by storm, we're still relatively new to the local market. With our top-shelf, feature-packed games, we come right on cue to inject some fresh air into the North American iGaming offering. Now is exactly the time to partner with us and stand out from the iGaming crowd with our unique, premium solutions! With 18 annual cross-platform HTML5 releases, always fresh themes, state-of-the-art mechanics, and a promise of ramped-up engagement levels, our games continuously live up to players' expectations and make casinos stay ahead of the tech curve. But the proof is in the eating – come and see what we've got!
5. You'll brush up on leading-edge iGaming technology that keeps your KPIs in shape
Gone are the days of undemanding players. Now, they're constantly on the lookout for more engagement and innovative ways to win. The struggle for player attention and retention is real. Enter cutting-edge iGaming technology dressed in top-notch game design! Or, as you wish, Wazdan's outstanding solutions portfolio. Advancing the iGaming technology has become our second name, and we continually expand our engagement suite to guarantee enjoyment and results. From all-time player favorite Hold the Jackpot™ series and games that come with as many as three bonus rounds through a plethora of record-breaking features (such as Collect to Infinity™, Cash Infinity™, and Sticky to Infinity™) to fully customizable promotional tools – we've got all it takes to keep your players contented and your metrics skyrocketing! Are you seeking new ways to optimize your performance? Come and pick our brains; let's take your business to new heights!
Feeling curious?
Visit booth 5023 at G2E Las Vegas and while away some time with our team! We will be happy to assist you in exploring our offering and share our passion for gaming. Do come round, check if we're a good match for you. If you would like to get our exclusive time and attention during the event and dive deeper into our offering, make sure to book a meeting.