5 Reasons Why You Should Visit Wazdan's Booth at SiGMA Europe Summit 2023
Events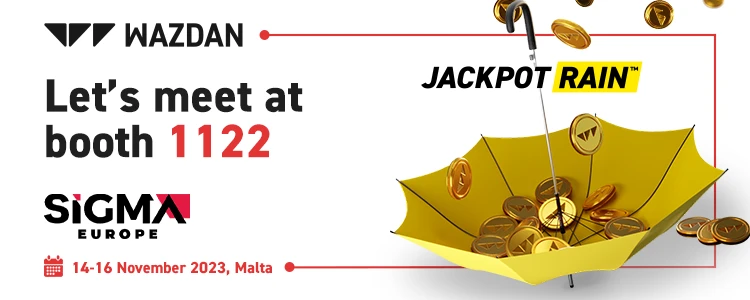 SiGMA Europe 2023 is just around the corner, and if you're a gaming enthusiast or a casino operator, you won't want to miss Wazdan's exciting showcase. From the 13th to the 17th of November, Wazdan will be at the SiGMA Europe Summit, held at the Mediterranean Maritime Hub, Malta. If you're still contemplating whether to visit Wazdan's booth 1122, here are five compelling reasons why you should make it a priority:
1. Engagement-boosting Jackpot Rain™ promo tool:
Wazdan boasts a diverse portfolio of gripping promo tools, including Cash Drop, Prize Drop™, or the awarded Mystery Drop™. For SiGMA Europe we are happy to extend this collection with the new progressive jackpot promo tool. Jackpot Rain™ is designed to deliver exciting gaming experiences to your players and remarkable results for you. Visit the booth to learn more about how you can utilise this flashy innovation in your casino.

2. Exhilarating tournament with fabulous prizes:
If you are looking for something more stimulating than just information, Wazdan invites you to participate in the Jackpot Rain™ tournament. While learning more about the promo tool itself, you will be able to compete with other professionals from the industry. Get ready to test your luck and walk away with fabulous rewards. You can register for this exhilarating tournament by filling out the form here.
3. Mystery Drop™ network promotions with a €2,500,000 prize pool:
Wazdan takes excitement to the next level with our Mystery Drop™ network promotions. Before the end of the year, we are rolling out the the Xmas Drop network promotion with a staggering €2,500,000 prize pool. As a casino operator, you can be part of this action and leverage Wazdan's award-winning Game Feature of the Year, the Mystery Drop™ promo tool. Watch player engagement soar as they chase their dreams of hitting it big this festive season.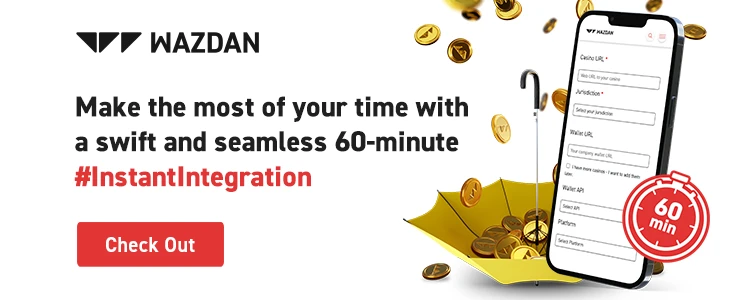 4. Instant Integration in less than 60 minutes:
Tired of lengthy integration processes that eat up valuable time? At Wazdan's booth, you'll discover how to seamlessly integrate your platform with our games in less than 60 minutes. This rapid #InstantIntegration ensures you can offer high-quality Wazdan games to your players without the hassle of a prolonged setup. Stay ahead of the competition and expand your game portfolio quickly and effortlessly.
5. New games including the exciting upcoming release – 9 Bells™:
Prepare to dazzle your players with Wazdan's newest sensations, including the exceptional 9 Bells™. This thrilling game will transport your players into a world of excitement where the reels light up with every spin. The engaging gameplay and innovative features are designed to create a mesmerising experience, making it a must-add to your game portfolio.

Make a note in your calendar and head over to Wazdan's booth 1122 at SiGMA Europe 2023. Be part of the gaming revolution, indulge in the incredible tournament, immerse yourself in new gaming journeys, and witness the future of gaming technology with the Jackpot Rain™ promo tool. Wazdan is ready to take you on an adventure that you won't soon forget.
For more information and to sign up for the tournament, visit the following website: Wazdan SiGMA Europe 2023. Don't miss out on this exciting opportunity to experience the best that Wazdan has to offer!
See you in Malta!