Wazdan Nominated in Multiple Categories at the 2023 EiGE Awards
Awards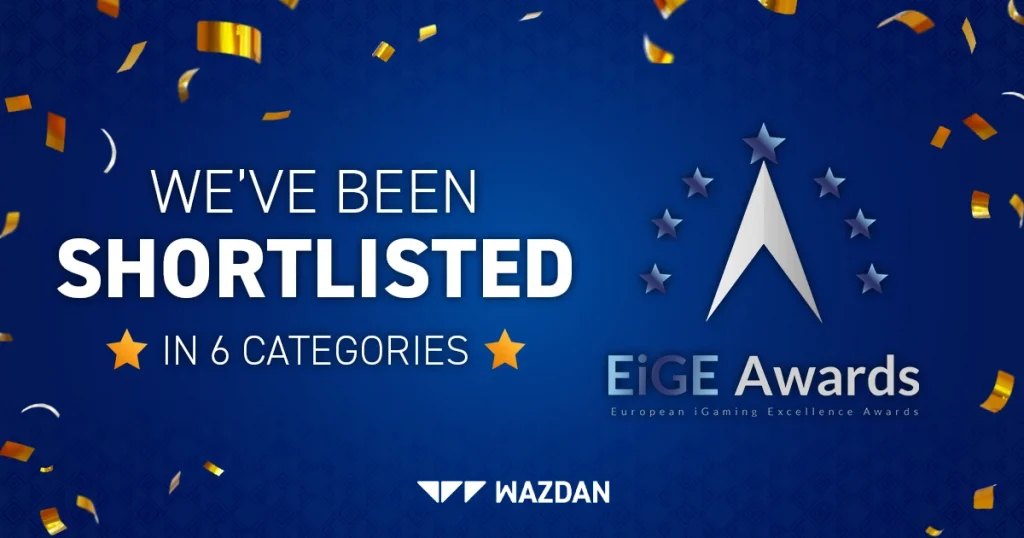 Wazdan, the innovative games provider, is thrilled to announce its nomination in six prestigious categories at the European iGaming Excellence Awards 2023, organised by Hipther.
The European iGaming Excellence Awards, renowned for recognising excellence and innovation in the iGaming sector, has acknowledged Wazdan's outstanding contributions across various aspects of the industry. Wazdan has been nominated in the following categories:
Best Game Developer in 2023 – Wazdan has consistently pushed the boundaries of game development, delivering engaging and immersive gaming experiences to players worldwide.
Best iGaming Supplier in 2023 – As a trusted iGaming supplier, Wazdan has been instrumental in providing top-tier content and solutions to operators, enhancing the overall player experience.
Best Mobile Gaming Provider in 2023 – Wazdan's commitment to delivering mobile-friendly games that captivate players on the go has earned it a nomination in this category.
Best iGaming Product in 2023 – Wazdan's innovative iGaming products have set new industry standards, and this nomination is a testament to its dedication to excellence.
Best Marketing Campaign in 2023 – Wazdan's marketing prowess has enabled it to create impactful campaigns that resonate with both players and partners.
Innovation In iGaming Technology in 2023 – This nomination underscores Wazdan's continuous pursuit of cutting-edge technology to drive innovation in the iGaming sphere.
Andrzej Hyla, Chief Commercial Officer of Wazdan, said, "We are truly honoured to be nominated in these prestigious categories at the European iGaming Excellence Awards. It reflects the hard work and dedication of our entire team to provide the best gaming experiences and solutions to our partners and players."
Wazdan continues to stand at the forefront of the iGaming industry, delivering innovative content, products, and services that shape the future of online gaming.
The winners of the European iGaming Excellence Awards 2023 will be announced at a gala event in Warsaw on 31.10.2023, where the iGaming industry's elite will gather to celebrate excellence and innovation.