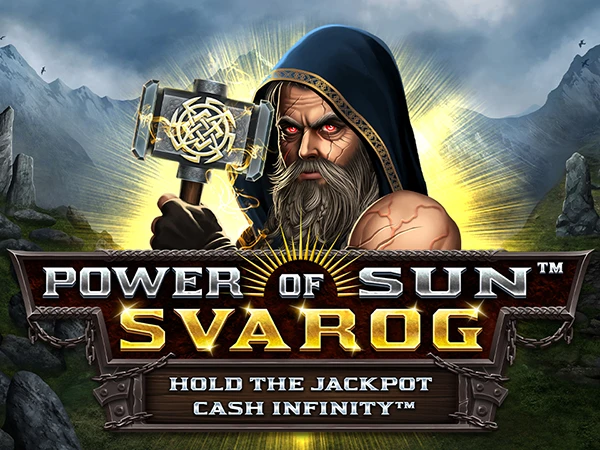 Reforge your portfolio by adding the thrilling Power of Sun™: Svarog slot and watch the numbers light up the sky!
Days

Hours

Minutes

Seconds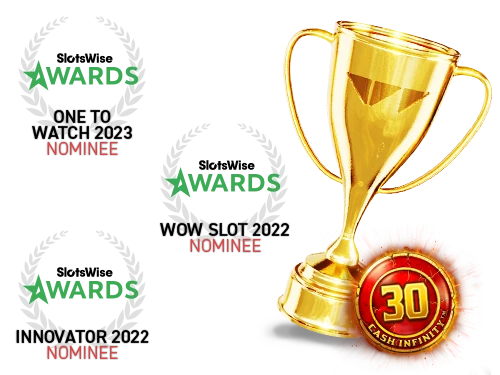 SlotsWise Awards 2023 Nomination
Power of Sun™: Svarog was nominated for the SlotsWise Awards in the category "One to Watch 2023" which recognises games that are bound to make some noise in the year to come.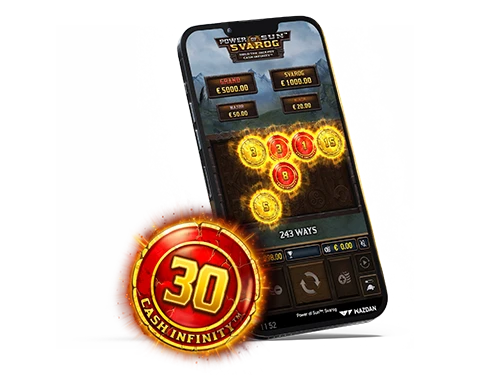 Cash Infinity™
Cash Infinity™ is an innovative mechanic that increases players' engagement by helping them enter the Hold the Jackpot™ bonus round.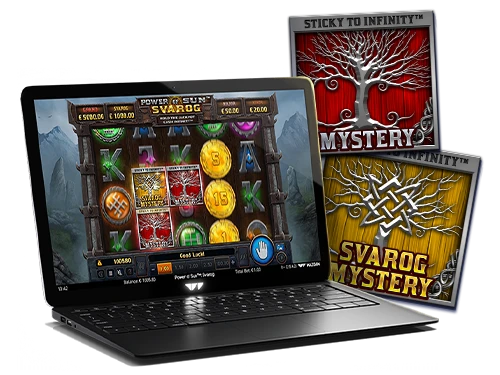 Sticky to Infinity™
Sticky to Infinity™ takes engagement to the next level by enabling players to enter the exciting bonus game and offering substantial rewards.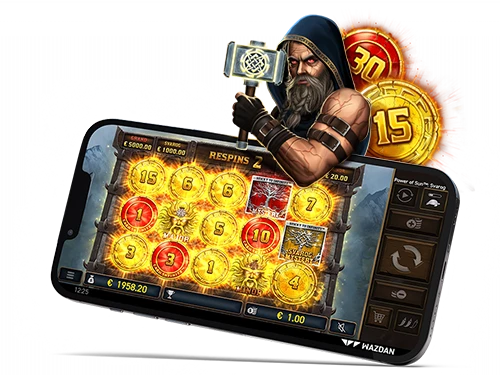 Hold the Jackpot™
Hold the Jackpot™ is a player-favourite bonus game that awards players massive prizes and offers a deeply immersive experience.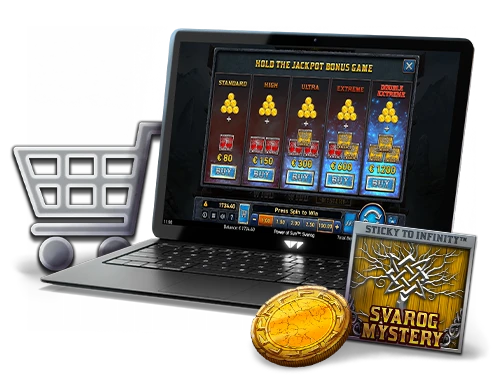 Buy Feature
Buy Feature takes players straight to the action, offering different levels of volatility, thus catering to the needs of the most demanding customers.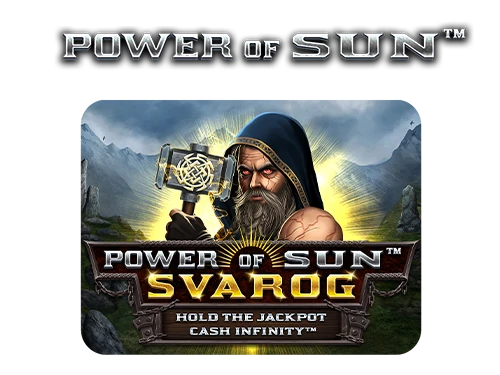 New game series
Power of Sun™: Svarog is the first instalment of the Power of Sun™ series that is sure to grab the attention of many players with a variety of top-notch titles.
Welcome the brand-new Power of Sun™ series and the first character of its pantheon – Svarog! The Slavic God of Fire brings a selection of innovative features, proven to be top-performing mechanics that boost player engagement and drive revenue growth for our partners, such as Cash Infinity™, Sticky to Infinity™, and the player-favourite Hold the Jackpot™ bonus round!
Power of Sun™: Svarog will attract the attention of all players who dare to lift the mighty hammer and forge their fortune in this immersive adventure.
Don't wait for the forges to cool down, add Power of Sun™: Svarog to your portfolio and hammer that revenue up!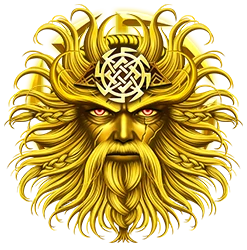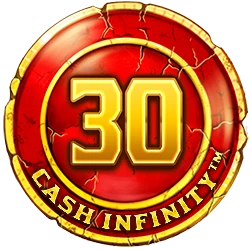 Game Info
Game type: Slots
Reels / Ways to Win: 5 / 243
RTP: 96.15%
Max Win: 5000x bet
Volatility: High
Series: Power of Sun™
Theme: Mythology
Release date: 2023-01-10
Features
Wild
Energy Saving Mode
Unique Gamble Feature
Hold the Jackpot™
Cash Infinity™
Sticky to Infinity™
Volatility Levels™
Buy Feature
Ultra Fast Mode
Big Screen Mode
Availability
30+ Languages
All Currencies
All Platforms
Quick API Integration
All Major Aggregators
Markets
Provide your players with the best seasonal promotion, using the award-winning Mystery Drop™ promo tool!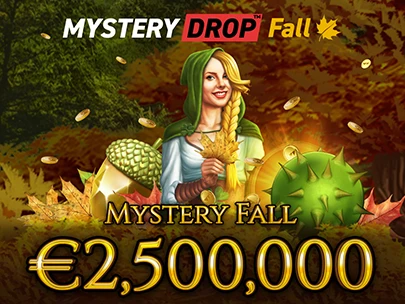 Svarog slot game - read more
Can you hear the hammer hitting the anvil? It is Svarog, the Slavic God of Fire, forging reels of the new slot, that will soon become a legend. It shall be named Power of Sun™: Svarog, and it is bound to bring prosperity and fortune to everyone who has the strength to play it! Welcome to the smithy, where fortune is forged. Welcome to the Power of Sun™: Svarog slot.
Literally – goosebumps. Wazdan will start this year with a bang because this exciting slot will be their first in 2023. And what a start that is, for the sheer number of features, mechanics, Bonus symbols, and basically ways to have fun is simply astonishing. Not to mention the graphic design and soundtrack that shouts immersion as well as the game layout that combines all the exciting elements of the game to provide you with the most engaging and exciting gameplay under the sun.
This great slot is played on five reels, yet it has no paylines – all symbols pay from leftmost to right on consecutive reels, featuring 243 ways to win. Exciting, isn't it? But before we jump into the godly stuff, let's talk about fun things base game and its symbols have for us. Starting off with the basic paying symbols that you can encounter – J, Q, K, and A, all of which are designed in a Slavic, magical way. Speaking of Slavic, the remaining paying symbols have pagan emblems that have pink, orange, green or blue colours illuminating them. Last but not least, there is the popular kid on the block – a Wild symbol, with Svarog and his hammer ready to grant you some sizzling wins, because it substitutes for all symbols except for Bonus symbols. Talking about Bonus symbols…
The first legendary symbol that Svarog managed to forge is the exceptional Cash Infinity™ symbol! Marking its debut in the top-performing 9 Coins™, it has grabbed the attention of many players around the world and quickly became a player-favourite feature. If you are a fan too, you will be overjoyed, because Svarog took care of it and now it will help you win those godly prizes in no time! And how does it work? During the base game, Cash Infinity™ symbols may randomly appear and stick to the reels until the end of the bonus game. These exciting symbols award prizes ranging from 1x-10x, 12x, and 15x your bet, which can only be won in the bonus game. Additionally, they increase the chances of activating the Hold the Jackpot™ bonus game.
Another bonus symbol that not only helps to enter the bonus game but sticks to the reels during the spinning is, wait for it, Sticky to Infinity™! Yeah, you could've guessed it. Either way, this great feature comes in the form of Mystery and Svarog Mystery symbols which can be randomly drawn during the base or bonus game spinning. These exciting symbols can transform into other Bonus symbols, adding an element of mystery (as the name implies) to each bonus game! The Mystery Symbol can transform into any other Bonus symbol, apart from the Svarog Jackpot symbol. But fear not, landing this jackpot symbol is possible thanks to the Svarog Mystery symbol, which can transform not only into the Svarog Jackpot symbol but all high-paying Jackpots and Collector symbols. Now that's fire!
It's high time to talk about the main dish of this sizzling meal – the Hold the Jackpot™ bonus round! This popular feature is a fine way to get some juicy wins, especially in combination with the Cash Infinity™ and Sticky to Infinity™ features. So, how can you take part in this fun endeavour? During the spinning you will encounter Cash symbols that award prizes ranging from 1x-10x, 12x, and 15x player's bet. After landing at least six of them or any other bonus symbols, you will enter the bonus round, which is played on 15 separate reels, with all symbols sticking to those reels during the spinning. Then you are granted 3 Respins at the beginning of the bonus game and each time you manage to land a bonus symbol the number of Respins is refreshed. Simple and fun, that's what it is. But that's not all! Remember the Mystery and Svarog Mystery symbols? These can draw Minor, Major, or Svarog Jackpots that pay prizes equal to 20x, 50x, and a whopping 1000x player's bet respectively. Another exciting mystery that Stick to Infinity™ symbols can transform into is a Collector symbol, which accumulates all values from Cash and Cash Infinity™ and multiplies them randomly by 1-20x.
Now, let's talk about the best part – the payout. All the bonus symbols that you managed to accumulate for the duration of the bonus game pay at the end of it. If you are truly Svarog's chosen and you manage to cover all 15 reels with bonus symbols, then you will be granted the Grand Jackpot of a massive 5000x your bet. Bear in mind that the Grand Jackpot is the ultimate prize in the game and bonus symbols values will not be added to it. As you can see this bonus game is packed with features and mechanics designed to keep you entertained and engaged, so don't be surprised if you find yourself spinning like there was no tomorrow!
At the beginning of the review, we mentioned that this is Wazdan's slot, so it would be a sin not to mention the unique features that are included in the games of this innovative slot provider. In the vast collections of Wazdan's player engagement suite, you can find Buy Feature, which takes you straight to the fires of Svarog's forges in the Hold the Jackpot™ bonus round, offering five levels of volatility. Speaking of volatility, you can adjust the size and frequency of winning any time you want thanks to the Volatility Levels™ feature, and if you are not the patient type – Ultra Fast Mode will add the dynamics to the gameplay that you seek! All of that and more is available thanks to the Freedom of Choice™ suite, so expect your gaming needs to be fulfilled!
To sum up, this game is a treat for every slot player – new or experienced – and guarantees fun beyond imagination. A variety of features combined with state-of-the-art graphics and an immersive soundtrack will make you feel like a God of Reels capable of forging your way to the grandest of jackpots! Don't wait and try your luck in this sizzling slot!
Power of Sun™: Svarog will make you go to bed with the sun!
read more