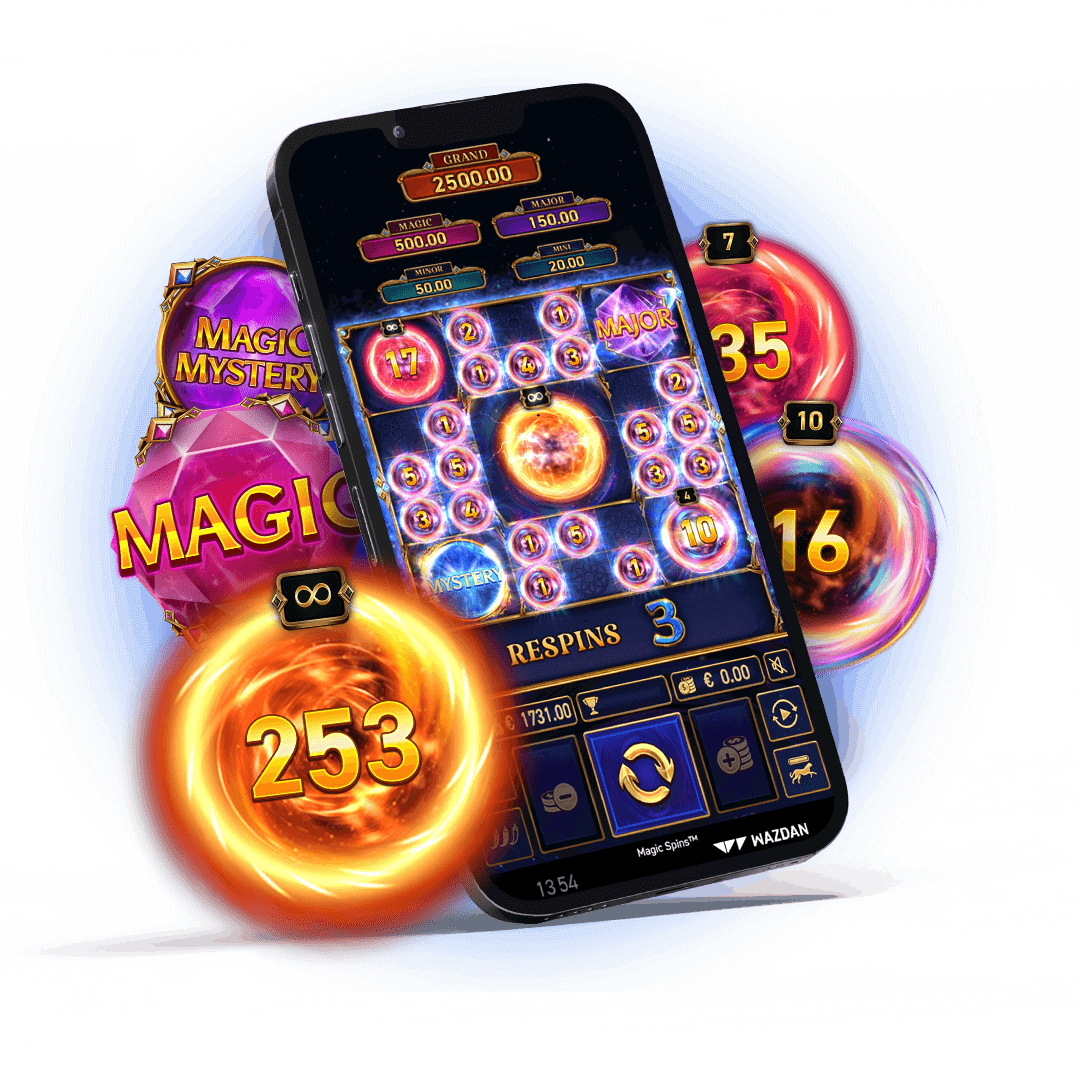 Magic Spins™ is a blend of cutting-edge mechanics, innovative features, and an entirely new look of reels. Everything to give players the highest level of engagement and enhance their gaming satisfaction. While casting the spells of spins, your players reach the Hold the Jackpot bonus round full of magical Bonus symbols and prizes up to 2500x their bet! With the wave of a magic wand, Magic Spins™ guarantees a deep immersion and full engagement.
Hold the Jackpot bonus round with new groundbreaking Bonus symbols
Absorbing Increasing Value Cash symbols and Collector symbols boosting player engagement
New innovative Collect to Infinity™ feature!
Wins up to 2500x player's bet
Unique Gamble Feature that allows players to double their wins up to 7 times in a row
Buy Feature with four different bonus entry levels giving players freedom of choice
Three Volatility Levels™ to adjust the gameplay to player's preferences
Want to engage your players and boost your casino? Ask your dedicated Wazdan Account Manager about the game or write to us at sales@wazdan.com.
Sticky Special Bonus symbols
Mesmerising way to reach the Hold the Jackpot magical round
Magic Spins™ is rich with various Bonus symbols that keep your players attracted. Gathering at least 6 of them takes players to the Hold the Jackpot Bonus round in which the real magic starts! To make the game even more charming, Special Bonus symbols may appear on the big and mega reels and stick to them for up to 10 Re-Spins. This brings your players closer to the Bonus round.
Hold the Jackpot
Bonus round with extremely engaging symbols
Gathering at least 6 Bonus symbols of any type invites players to a truly magical bonus round in which they may conjure various charming symbols. Cash symbols may be drawn on the tiny reels and grant players with prizes ranging from 1x-5x their bet. In order to attract players even more, the Bonus game offers Collector, Jackpot, Mystery, and Increasing Value Cash symbols that only appear on four big corner reels. For a truly immersive experience, players may grab Mega Collector, Magic Mystery, and Mega Increasing Value Cash symbols that can only land on the mega central reel. As with a wave of a magic wand, Increasing Value Cash symbols award players with charming prizes ranging from 3x-7x whereas Mega Increasing Cash Symbols, award players with prizes ranging from 5x-10x their bet and their values increase with every Re-Spin up to 10 times. Collector and Mega Collector symbols accumulate all values from Cash symbols drawn on the small adjacent reels, until their countdown reaches 0. To boost players' satisfaction, they may also appear with the Collect to Infinity™ feature and accumulate Cash symbols values to infinity. For a truly magical experience, Magic Mystery symbol transforms into Mini, Minor, Major and Magic Jackpot symbols or the Mega Collector symbol. To make a game more mysterious, players can spot the Mystery symbol that may transform into any other Bonus symbol. Finally, during spinning the bonus round, players may cast spells and grab Mini, Minor, and Major Jackpots. In the end, after filling all 29 reels with Bonus symbols of any type, players grab the Grand Jackpot of 2500x their bet.
29 Reels
29 Reels
Magic Spins™ is a 29-reel video slot that takes players to a truly magical world full of charms and fortunate predictions. The extraordinary and innovative look with four big corner reels and one mega central reel gives players the unrepeatably magic gaming experience. Magic Spins™ is a must-have title in every casino as it guarantees players' engagement and satisfaction. Its extraordinary design, melodic soundtrack, advanced mechanics, and multiple innovative features will fascinate and keep your players immersed for longer.
Buy Feature
Cast a spell to get the Bonus round in a snap!
The wizards know the best magic tricks to reach the gates of fortune. This special feature allows your players to open the grimoire and enter the secret world of Jackpots. Using the Low, Standard, High, or Extreme options, your players may instantly get into the Hold the Jackpot bonus round and feel like real magicians. Four different entry levels are like spells to cast – each of them contains additional Bonus symbols to grab. This choice gives your players even more personalised and "tailor-made" gaming experience.
Unique Gamble Feature
A great chance to double wins up to 7 times in a row
Trying their magical powers, your players can double their wins up to 7 times in a row by choosing the right colour of a gem.
Mega Wins
Wins up to 2500x player's bet
Various attractive Bonus symbols give your players multiple chances to conjure up valuable prizes. While waving a magical wand, they may grab the Grand Jackpot prize of 2500x their bet which is the maximum prize in the game.
Wild symbol
A great way to substitute for other symbols
Wild Symbol substitutes for all symbols except for Bonus symbols giving players a magic wand for more engaging spinning tricks.
Volatility Levels™
Wins size and frequency adjusted to players' preferences
Volatility Levels™ allow players to modify their win size and frequency on the fly! High volatility brings more big wins, but they will happen less often. On the other hand, with low volatility, wins appear more frequently, but their value is usually lower. Players looking for a more balanced experience can select the Standard mode, in which both win size and frequency are more equalised.
Ultra Fast Mode
A truly dynamic gaming experience
Ultra Fast Mode allows players to boost the gameplay to some pretty intense speeds. With this feature on, the reels spin in a blink of an eye! This feature is perfect for those who wish to enjoy a really dynamic experience.
Big Screen Mode
Focus on the reels
Big Screen Mode allows players to enlarge the reels view so that it fills the entire screen, allowing players to focus exclusively on the thrilling action taking place on the reels. With two zoom modes to choose from, players can adjust how the game is displayed on their devices.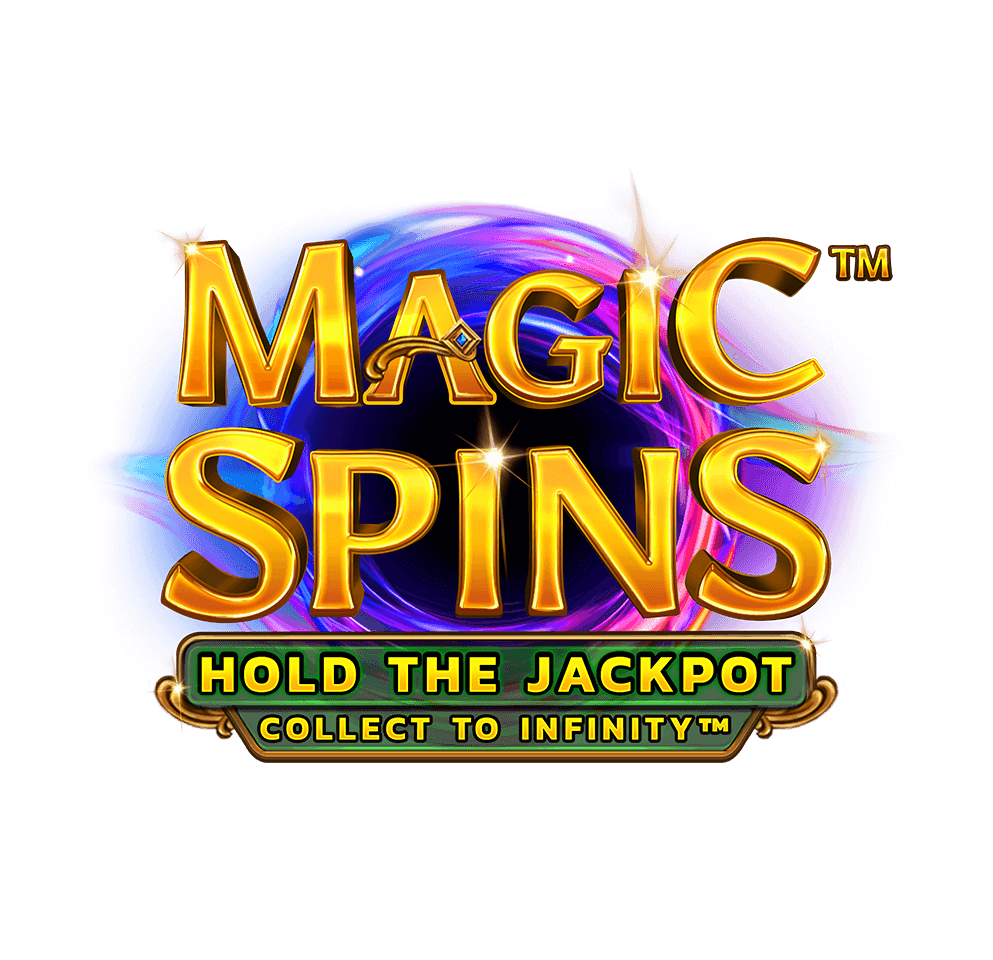 Become a wizard of your casino. Cast a spell and boost your numbers!
Take your players to a mysterious place full of magical spins and long-lasting engagement. Take them to the enchanting world of Magic Spins™!
Play now