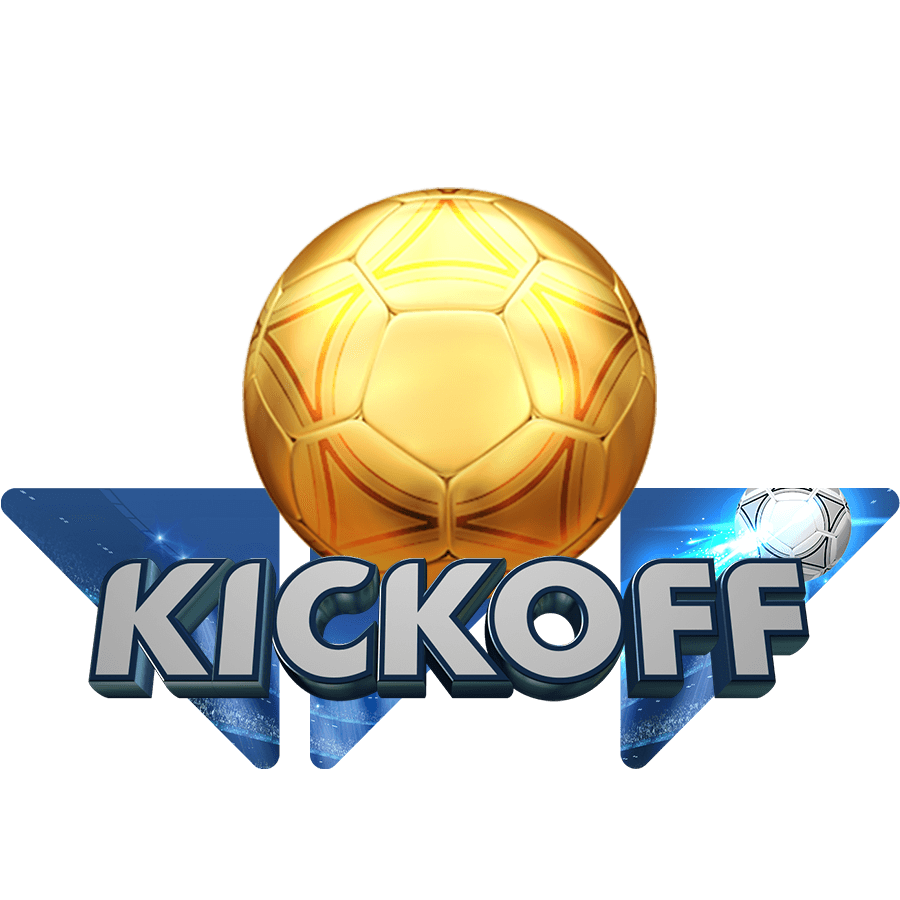 Kick Off
The popular theme coupled with a unique gameplay guarantee great fun!
Game description
Cheer with the crowd and become a part of the winning team with Kick Off – one of the most distinctive online slots in our portfolio!
The widely popular football theme is coupled with a unique approach to gameplay. Unsurprisingly, the action of this online slot takes place at a football pitch, so you can feel like watching a match from the comfort of your own home. Kick Off doesn't feature traditional reels – instead, there are three players with three balls that represent the slot's symbols. There's a paytable on the left side of the screen which gives you quick access to the potential cash prizes which you may reach while playing the game. On the right side, there's a Bonus Matrix Table which features three columns of balls. Also in Kick Off you'll find an intuitive, user-friendly control panel which allows you to access a variety of actions and options.
To elevate the play to a whole new level, Kick Off lets you reach those higher prizes with the help of its rewarding special features. To begin with, there's a multi-coloured ball which acts as a Wild Symbol that substitutes for all other icons except for the golden ball. Apart from that, each time the golden ball appears, it activates a corresponding field in the Bonus Matrix Table. Collect five golden balls vertically and you'll activate a mini bonus game during which your aim is to shoot five penalties. Collect three golden balls vertically and you'll trigger the same bonus game, however, you'll get only one penalty.
Kick Off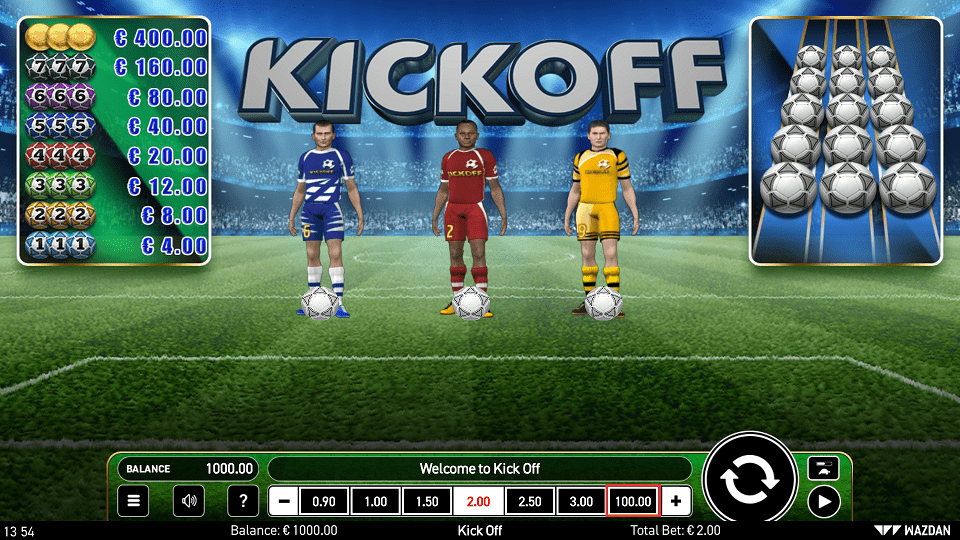 Get ready for a Kick Off! Hear the crowd cheering as three players are trying to form a winning combination for you!
Matrix Table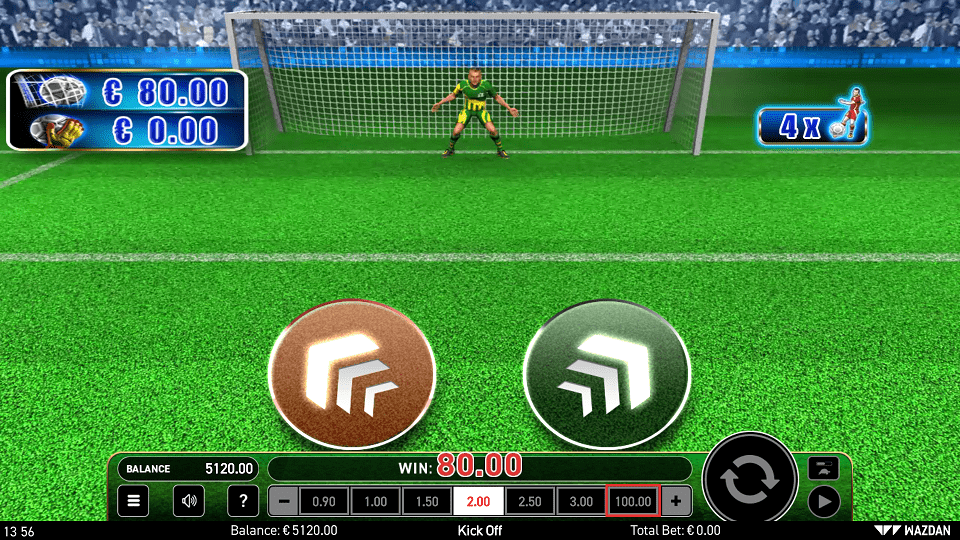 Each time the gold ball lands on the reels, it activates a corresponding field in the Matrix Table. Collecting three horizontal gold balls awards a bonus game during which the goal is to score a penalty kick. Accumulating five vertical balls awards 5 penalties! Each goal awards a cash prize.
Wild Symbol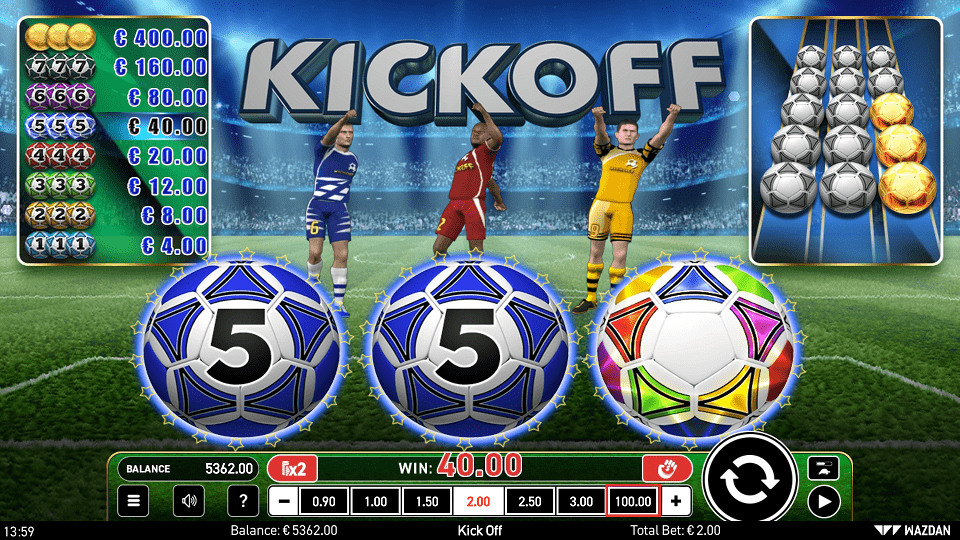 Players can take advantage of the slot's Wild Symbol which substitutes for all other symbols except the gold ball icon. It's represented by a colourful ball and is a big help in completing winning combinations!
Big Win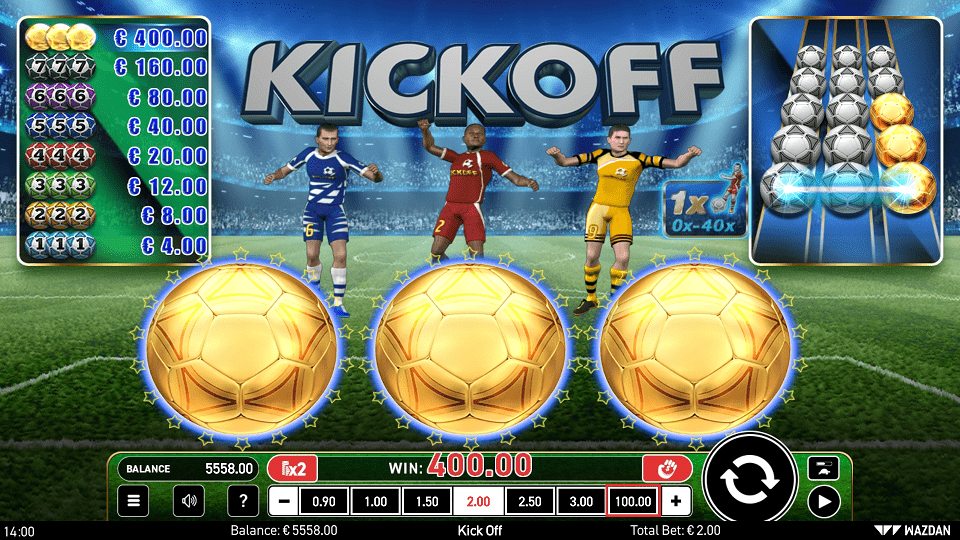 Cheer with the crowd and watch the players bring you winning combinations so you can score up to x440 stake!
Similar games
One of the most distinctive games in our portfolio, Kick Off is coupled with a unique approach to gameplay. For more football-themed slots try Football Mania and Football Mania Deluxe. Looking for more innovative online slots? Our portfolio bursts with a wide range of one-of-a-kind online slots that deliver an original feel. Discover a whole new definition of online slots with Larry the Leprechaun, Relic Hunters and the Book of Faith™ or 9 Lions.
Share our passion for games